As a fellow breeder to the Wenham family of Illawarras; as a provider of specific bloodlines to the Fairview herd; as former Illawarra Classifier for more than 20 years and as Illawarra Field Officer for an even a longer period, Lloyd Peters says he is happy to introduce the Fairview sale.
The Wenhams purchased their Cooranga North farm in 1954 with a commercial Illawarra herd in place. The principal, Bert Wenham died in his 50's leaving Mrs Wenham and her family to carry on the farm. Happily, Mrs Wenham, now 90 years of age is still living, in retirement in Dalby. The stud has been in charge of son, Neville, for the last 25 years or so.
This is the largest herd of pure Illawarra genetics in Australia, milked on a dry land farm, much of the time in recent years under very unfavourable seasonable conditions. The milking herd is not unfamiliar with the "long paddock" (road), and can travel up to 6 klms. At the time of writing, this is where the milking herd spends its daytime.
This last summer has been extremely difficult with months without any rain; the virtual unavailability of hay; high grain prices and ever increasing milk transport costs from a non-dairying area, without taking into account the low returns received by dairy farmers. Even providing a survival ration for the herd of more than 300 stock, has tested budgetary measures, let alone providing a diet for producing milk.
With the excellent rains over southern Queensland in the last couple of weeks, Neville has decided that the milking herd needs to go as the first stage dispersal, still leaving some 200 heifers for future sales. Even if he recommenced dairying at some stage in the future, the cost of milk pick-up would be prohibitive.
The family ventured into registered cattle in the mid-1970's, and over ensuing years purchased stock from the very "heart and soul" of Illawarra breeding, concentrating on successful cow families. The best of Sunny View, Wamba, Wilmington and Blackburn genetics came to the stud. Also from the major studs in NSW, Tabbagong, Lemon Grove and Parkview, came approximately 20 head.
While much of today's Illawarra population carries outside blood, although tried, this has not been a success at Fairview. Although there are a few examples of outside blood animals here, generally the outcross animals did not last the distance, needing more constitution for the harsh farming conditions experienced at Fairview. The "Fairview" holding has more than trebled over the years to 2001 acres, testimony to the profitability of this Illawarra herd.
While Neville would like the herd to be presented in a higher condition score, it is expected if the weather stays mild, by sale day with feed now growing, condition of the herd will improve.
Lloyd Peters has inspected the herd and all will be fit to travel long distances. Lloyd invites you on behalf of the Wenham family to Fairview at Cooranga North on 23rd May 2014. An introduction on Fairview's cow families follows. The preliminary catalogue is attached. The official version will be provided as soon as possible.
MILKING HERD DISPERSAL
On property "Fairview" Cooranga North, Queensland

(approx 1klm past the Cooranga North Hall)
23rd May 2014
Selling
130 Cows, all stages of lactation
8 Springing Heifers
1 Stud Sire
5 x 10 straws, 1 x 5 straws "hard to find" semen
For Catalogues and general sale enquiries contact the Selling Agents: John Cochrane 0414 986 981

For further information regarding sale animals contact:
Vendor: Neville Wenham 0746 686 718, or
ICSA Field Officer: Lloyd Peters 0429 834646
Introducing the Cow Families at Fairview
Cow family names were changed where Fairview already had that family name established, eg Jean to Jeanie. The Grace, Jess, Cherry, Rose, Ruby, Star and Queenie cow families were part of the herd before registration commenced and have been brought in through the Illawarra Appendix system.

Sunny View Cow Families:
A few years after the Sunny View Dispersal, Fairview purchased the small herd of Wayne Phillips which included the cow families lines he had purchased at the Sunny View Dispersal including May, Empress, Glorious, Thelma and Jean (Jeanie). As Fairview already had a Jean family this was changed to Jeanie at Fairview. These were all outstanding cow families at Sunny View.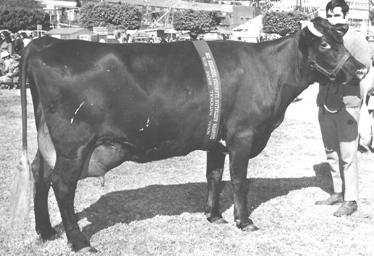 The 'May' family at Fairview all descend from Sunny View May 25 (pictured above). May 25 was once Champion Cow at Brisbane and twice Reserve as well as Champion Milk Production cow and Reserve B/fat Champion of all breeds. Her daughter at Sunny View Park produced just under 10,000 lts in 305 days and was a successful milking competition cow.

The Empress' were regarded as Sunny View's top cow family by many breed "experts", providing not only show champions but also production winners regularly.

Another highly regarded family was Thelma with both Thelma 99 and her grandmother, Thelma 57 selling to Wayne Phillips. Both were Brisbane winners of note. Sunny View Jean 33 was reigning Reserve Champion Cow when purchased by Wayne Phillips. There is an impressive Jean/Jeanie heifer in sale.

Wilmington Cow Families:
Perfect & Minerva: Animals purchased from Wilmington were significant and included grand-daughters of both Perfect 7 and Minerva 9. They are pictured here (below) after winning the All Breeds Total Solids Championship at Brisbane Royal. That year Perfect 7 was Reserve Champion Milk Producer and Minerva 9 was Junior Champion Milk Producer. The previous year Perfect 7 was Res Champion Butterfat cow and Junior Champion Milk Producer. Her Butterfat production established a new showground record of 8.28 lbs in 48 hours. Minerva 9 held the Australian Senior Yearling 300 day record of 747 lbs for many years.
Pictured: Wilmington Perfect 7 & Minerva 9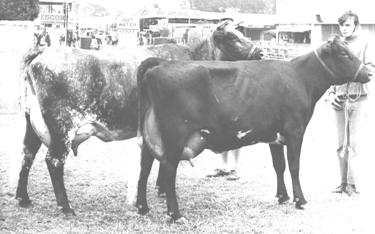 Bangle: The Bangles were a tremendous production family at Wilmington, both Bangle 6 and her dam were 10,000 lt cows, with previous generations also very significant. Bangle 6 produced 10,446 kg 3.8% 394 kg b/f in 300 days. She is pictured below with Russell Wenham at the halter when in 1981 she won the All Breeds Type and Production Championship at Brisbane; also winning All Breeds Lactation Championship.
Wilmington Bangle 6 (pictured below) came to Fairview when Wilmington moved to the Riverina in NSW.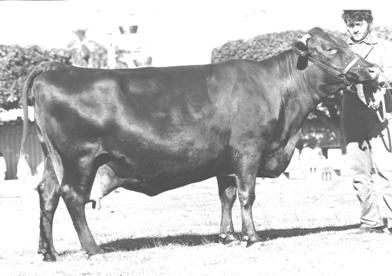 Wilmington Bangle 6 also paired with Tabbagong Virgin 62 to win All Breeds Team of Two production at Brisbane in 1981. A daughter of Tabbagong Virgin 62 (Wilmington Virgin 9) is responsible for the Virgin family at Fairview.

Other families established from Wilmington include Shamrock, with a granddaughter of the outstanding Vuegon Shamrock 18; the consistent Lady Myrtles, and Wilmington Beauty 11 who won Best Udder at Toowoomba Royal for Fairview. Both the sire and dam of Beauty 11 were Tabbagong bred animals.

Tabbagong Families:
The Tabbagong families at Fairview came via Wilmington. When Tabbagong sold their milking herd along with a large portion of their property, Wilmington selected 20 heifers from top cows to come to Queensland.

Without doubt Tabbagong has been one of the leading studs for seed stock the Illawarra breed has seen. Actual Tabbagong animals from the Fortune, Gracie and Ruth families came to Fairview. The Fairview Gracie, Beauty and Virgin cow families came from animals purchased from Wilmington.

Tabbagong Park Fortune 3 has proved to be the highest producer ever herd recorded at Fairview. In 1981 when Wilmington Bangle 6 won the 300 day lactation championship, the Reserve Championship was won by Tabbagong Park Fortune 3. Fairview's highest classified cow, Fairview Fortune 16 descends from this cow.

All the above Tabbagong cow families are represented in the sale.

The Minnie family came from the Lemon Grove Minerva family but goes back to the Sunny Stud who introduced the family from the renowned Yarranvale stud dispersal with a Minerva cow being the top price of that sale.

Parkview stud goes back to many years before the Illawarras became a breed. At their Dispersal Sale in 1991 Neville introduced the Daisy and Fortune (now Foremost) families, now both prominent in the Fairview herd. The Daisy family at Parkview was one of their most successful families, with Parkview Daisy 3 selling for more than $10,000. Some quality Daisy family members are to be sold.

At the Cerana Stud Dispersal Neville selected a Gem heifer whose dam was popularly considered as equal to any cow in that herd. From Navleigh Dispersal came the Charlotte family. The Fancy family came from the Schelbach's Allanview Stud. At the Wamba Dispersal, Fairview purchased their first registered Illawarras. The Lady Jean, Jean, Thelma (Flora/Treasure) and Mafalda families are well established in the Fairview Herd.

About 4 years ago Neville purchased the final breeding stock of the Blackburn Stud which going back through their parent stud, Blacklands, were a legend in the Illawarra breed. Families included Ethel, Foremost, Mirth, and Topsy.