The IDP Committee is constantly monitoring International Red Cow populations to identify outcross genetics that the committee believes could have a positive influence on the Illawarra breed. To that end, in collaboration with the American Milking Shorthorn Society's bull committee, Kuszmar Stroker Ace EXP A1A2 (see Flier below) was identified as a bull of relatively high purity that has the potential to bring quality genetics into the Illawarra breed. Being an EXP animal, Stroker Ace will be somewhere around 70-75% purity.
Stroker Ace comes from the herd that has bred the Premier Sire at World Dairy Expo no less than 14 of the past 16 years. His Sire is a maternal brother to Spungold-R Prince of PA – a bull that many breeders would be familiar with and one that Chairman of the ICSA's Illawarra Development Program Committee, Michael Tuhan, has heard favourable comments from several Australian breeders. Stroker Ace is backed by 2 generations of Excellent Classified dams with big milk records, with his dam being none other than the recently crowned ALL WORLD mature cow. You may notice that the fat % on the maternal side is relatively low. Michael Tuhan's advice from the US is that this is due to a feeding program designed to promote milk volume and despite this Kuszmar bulls do not tent to transmit low components.
Due to limited opportunities for Milking Shorthorn Bulls in A.I. collection centres, the breeder of Ace made the decision to put him into a private Export collection centre for the sole purpose of giving Australian breeders access to these genetics. The Illawarra Cattle Society will fund the cost of purchasing and importing the semen and so at this stage, the Society can only give an indicate price of $20-$25 per unit. The more semen that comes in, the cheaper the final price will be due to dilution of import costs.
ICSA members wishing to access these genetics please place an order with the Kiama office or with your nearest IDP committee member. Genuine orders only (no tyre kickers please).
IDP Committee members:
Ian Mueller (SA) 0488 321 489
Shane Bourke (Qld) 0437 661 189
Matt Henry (Qld) 0448 646 854
Tom Cochrane (NSW) 0402 317 060
Tony Hayes (Vic) 0427 171 712
Joel Dorries (NSW) 0401 931 052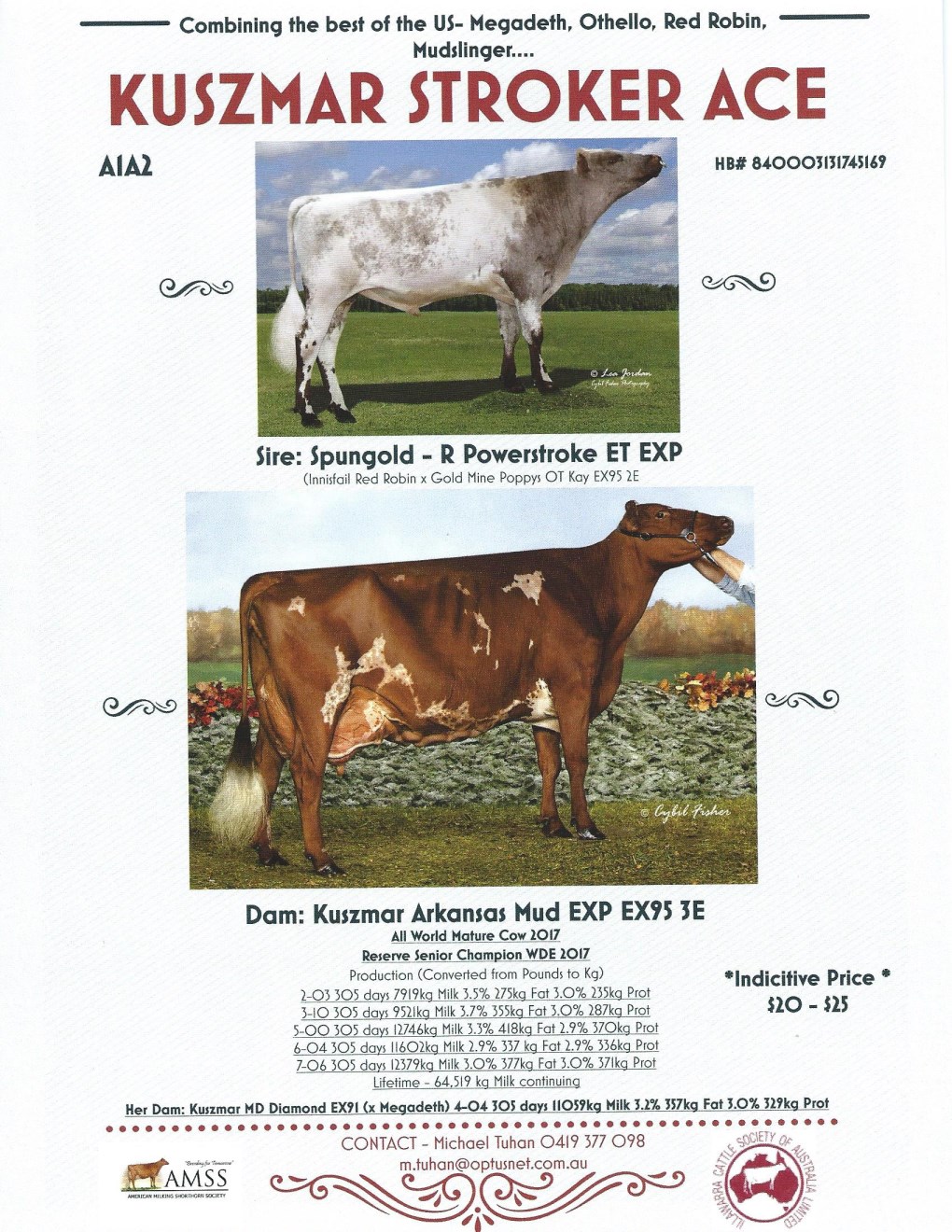 Brooke Evans (Vic) 0458 993 192
Michael Tuhan (Vic) 0419 377 098