At the recent ICSA Federal Board Annual Meeting held during the 2018 Adelaide Show, Warren Doecke stood down from the position of ICSA Federal President as a result of coming to the end of his three year term. Thank you Warren for your efforts over the last three years and congratulations to fellow South Australian Ian Mueller (Glenbrook Stud) on being appointed to the position.
Also appointed were Greg English (Eachamvale Stud, Malanda, Qld) as Senior Vice President and Paul Ringland (View Mount Stud, Verona, NSW) as Junior Vice President.
Thank you to Cathie Cochrane for continuing on as Federal Treasurer.
A big thank you to all those who took on positions, either on the Federal Board or the various committees. Your commitment is appreciated and we wish you all the best in fulfilling your duties.
Below: Ian Mueller (far right) addresses the DDICC's 50th Anniversary attendees, flanked by L-R Clinton Vonhoff (DDICC President), Keith Dorries (Immediate Past President, Qld Branch & Qld Branch Life Member) and Mike Henry (Qld Branch President).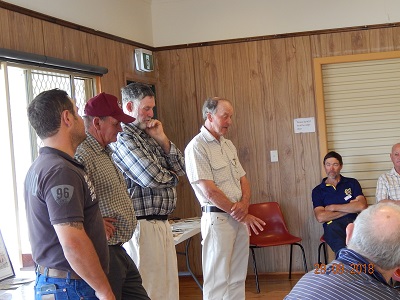 Below: Newly appointed Queensland Branch Life Member, Keith Dorries, is congratulated by left - Greg English (ICSA Snr Vice President) and right - Mike Henry (Qld Branch President)