The annual Illawarra- Guernsey Calf Day in Tasmania was recently held at the Chudleigh showgrounds with Michael Tuhan, Victoria as judge.
The Grand Champion heifer, an Illawarra, was Joshlee Aramas Trivia, sire Redrama, owned by new Tasmanian Branch President, Mr Josh Smith.
Miss Hannah LeFevre, daughter of one of the Tasmanian Branch's newest members Michael Lefevre, at her very first show won the Junior Handlers class, a mighty effort, while her heifer calf came a commendable second in its class.
This event has been held for approx 8 yrs and continues to grow in numbers of stock and spectators, a great grounding for all concerned to go on to bigger and better things. Congratulations to all concerned.
Josh Smith with his Grand Champion Heifer, Joshlee Aramas Trivia watched on by Judge, Michael Tuhan, Vic.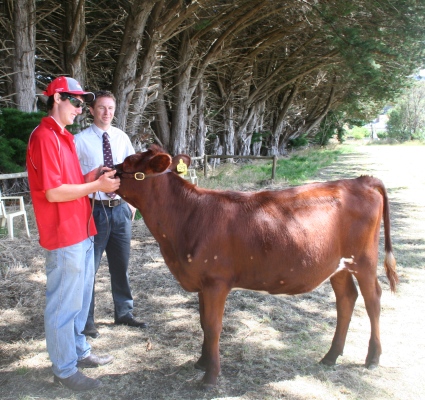 Hannah LeFevre receives her prize after winning the Junior Handlers Class from new Tasmanian Branch President, Mr Josh Smith, watched on by a very proud Max Austin, long time Branch President and Past ICSA Federal President.