Young Patrick Noakes (Eacham Park, Wondai, Qld) is a man of action. At eleven years of age he is keen to participate in anything going so it was no surprise that Patrick put his hand up to help Brisbane RNA plumbers who were trying to track the source of wet sawdust under the Ledger Family's show team at the recent Ekka.
A manhole at the base of a downpipe proved too small for plumbers who enlisted the help of the smallest person in the shed.
Holding Patrick by his legs, they lowered him into the manhole manned with a torch to check for blockages. Unfortunately for the Ledgers he didn't find anything but his helpfulness did earn him the princely sum of five dollars.
Patrick was extremely happy with his reward although the plumbers later admitted they would have been prepared to pay him a lot more.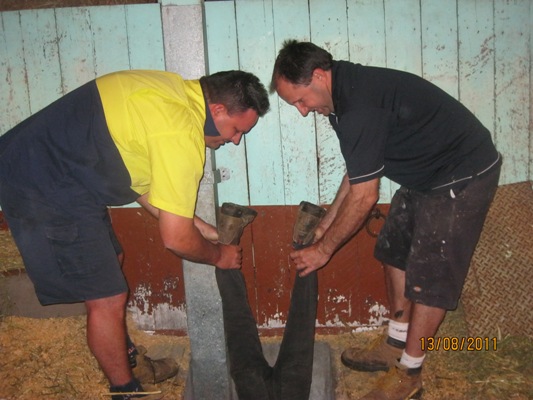 And his just reward