The trek from Toowoomba to Gympie, once again paid off for the Henry family winning eleven classes of the total on offer at the 2017 Gympie Show, including Intermediate Champion, under Judge, Rob Lindsay, Waraba Stud, Warwick. The Henry's success also included Reserve Champion Juvenile, Reserve Champion Intermediate and Reserve Champion Cow.
Junior Champion went to the Nicholls & Phillips families with Sunny View Bar Bure Pauline with the senior championship going to F S Johnston & Sons with Jondene Barbara 18.
In the production competition, the Ledger Family's Fairview Treasure 76 and Riverwood Thelma 6 took first and second in the All Breeds Most Milk and Most Protein sections.
The weather wasn't kind to exhibitors with rain throughout judging but a good display was put on for the few spectators who braved the weather, by the 49 exhibits. Special thanks to Judge, Rob Lindsay, for turning up after his wife Jo gave birth to their second son the evening before judging. Although a bit sleep deprived, Rob did a great job along with the help of his little assistant, Thomas. Jo is definitely a farmer's wife!
Check out the photos of class winners in the Website Gallery. Thank you Tanya Pratten for your perseverance under trying conditions.
RESULTS:
Class 1 – Encourage Heifer U2yrs
1st R & T Pratten – Ronya Twistie 2, s. Riverwood Scorcher, d. Ronya Twistie
2nd B & C Holt – Panorama Fussy 24
3rd B & C Holt – Panorama Angeline 42
Class 2 – Heifer 6mths & U12mths dry
1st Nicholls & Phillips Families – Sunny View Bar Bure Pauline, s. Hylite Bar Bure, d. Sunny View Park Pauline
2nd Ledger Family – Riverwood Model 25, s. Riverwood Blizzard, d. Riverwood Model 2
3rd English & Noakes – Eacham Park Primrose 2, s. Allen Vale Empire Flash, d. Eacham Park Primrose.
Class 3 – Heifer 12mths & U18mths dry
1st M & G Henry – Tara Carol 3, s. Storman Jetson, d. Tara Carol
2nd F S Johnston & Sons – Jondene Silky 118, s. Jondene Serenade, d. Jondene Silky 106
3rd English & Noakes – Eacham Park Beauty 36, s. KHW Kite Advent Red, d. Eacham Park Beauty
Class 4 – Heifer 18mths & U2yrs dry
1st English & Noakes – Eacham Park Necklace 84, s. Allen Vale Empire Flash, d. Eacham Park Necklace
2nd F S Johnston & Sons – Jondene Empress 14, s. Jondene Ford, d. Jondene Empress 5
3rd B & C Holt – Panorama Fussy 24, s. Panorama Classic, d. Panorama Fussy
JUNIOR CHAMPION HEIFER: SUNNY VIEW BAR BURE PAULINE (NICHOLLS & PHILLIPS)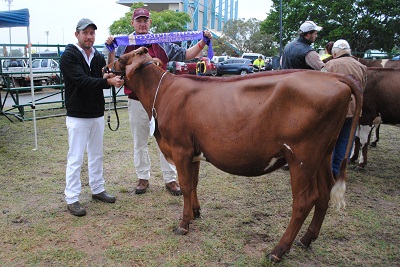 RESERVE CHAMPION JUNIOR HEIFER: TARA CAROL 3 (M & G HENRY)
Class 5 – Heifer 2yrs & U4yrs dry
1st F S Johnston & Sons – Jondene Ruby 10, s. Jondene Design, d. Jondene Ruby 5
2nd Nambour State College – NR Viscount Barbara, s. Viscount, d. Jondene Barbara
3rd Britney Holt – Jondene Honeysuckle 79, s. Jondene Design, d. Jondene Honeysuckle
Class 6 – Heifer 2.5yrs & U3yrs in milk
1st M & G Henry – White Park Roseleaf 142, s. Tara Chester, d. White Park Roseleaf 139
2nd Den Dia Partnership – Den Dia Buttercup 4, s. Riverwood Blizzard, d. Den Dia Buttercup 2
3rd Ledger Family – Riverwood Milly 7, s. Riverwood Blaze, d. Riverwood Milly 2
Class 7 – Heifer 3yrs & U3.5yrs in milk
1st M & G Henry – Tara Cherry 10, s. Panorama Attention, d. Tara Cherry 8
2nd F S Johnston & Sons – Jondene Velda 10, s. Jondene Design, d. Jondene Velda
Class 8 – Group of Three U4yrs
1st M & G Henry
2nd F S Johnston & Sons
3rd Ledger Family
Class 9 – Best Udder & Attachment U4yrs
1st M & G Henry - White Park Roseleaf 142, s. Tara Chester, d. White Park Roseleaf 139
2nd Den Dia Partnership – Den Dia Buttercup 4, s. Riverwood Blizzard, d. Den Dia Buttercup 2
3rd Ledger Family – Riverwood Milly 7, s. Riverwood Blaze, d. Riverwood Milly 2
INTERMEDIATE CHAMPION HEIFER: TARA CHERRY 10 (M & G HENRY)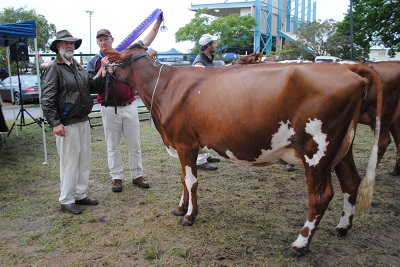 INTERMEDIATE RESERVE CHAMPION HEIFER: WHITE PARK ROSELEAF 142 (M & G HENRY)
Class 10 – Cow 4yrs & over dry
1st F S Johnston & Sons – Jondene Jinny 12
2nd English & Noakes – Eacham Park Upstart, s. Allen Vale Marlene's Powerage, d. Eacham Park Minerva
3rd Nambour State College – Jondene Dainty 112, s. Jondene Winkie, d. Jondene Dainty 99
Class 11 – Cow 5yrs & U6yrs in milk
1st F S Johnston & Sons – Jondene Barbara 18, s. Jondene Lucky, d. Jondene Barbara 9
2nd Ledger Family – Fairview Treasure 76, d. Valley Ruben Redman, d. Fairview Treasure 50
3rd M & G Henry – Venvale Thelma 121, s. Llandovery Verbs Viscount, d. Venvale Thelma 120
Class 12 – Cow 6yrs & U7yrs in milk
1st M & G Henry – Tara Dahlia 15, s. Tara Statesman, d. Tara Dahlia 14
Class 13 – Cow 7yrs & over in milk
1st M & G Henry – Happy Valley Maiden 23, s. Jondene Ford, d. Happy Valley Maiden 15
2nd English & Noakes - Eacham Park Beauty 34, s. Allen Vale Marlene's Powerage, d. Eacham Park Beauty 17
Class 14 – Pen of Three Cows over 4yrs
1st M & G Henry
2nd F S Johnston Sons
Class 15 – Exhibitors Group – 4 head any age
1st M & G Henry
2nd Ledger Family
3rd English & Noakes
Class 16 – Best Udder & Attachment 4yrs & over
1st M & G Henry - Venvale Thelma 121, s. Llandovery Verbs Viscount, d. Venvale Thelma 120
2nd F S Johnston & Sons – Jondene Barbara 18, s. Jondene Lucky, d. Jondene Barbara 9
3rd M & G Henry – Happy Valley Maiden 23, s. Jondene Ford, d. Happy Valley Maiden 15
SENIOR CHAMPION COW: JONDENE BARBARA 18 (F S JOHNSTON & SONS)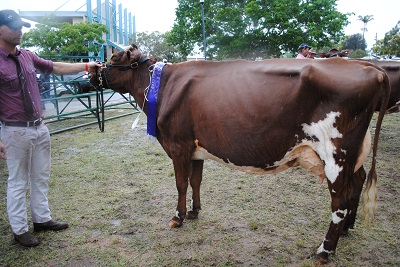 SENIOR RESERVE CHAMPION COW: HAPPY VALLEY MAIDEN 23 (M & G HENRY)
SENIOR HON. MENTION CHAMPION COW: FAIRVIEW TREASURE 76 (LEDGER FAMILY)
ALL BREEDS 24 HR MILKING COMPETITION:
Most Milk
1st Fairview Treasure 76 (Ledger Family)
2nd Riverwood Thelma 6 (Ledger Family)
Most Protein
1st Fairview Treasure 76 (Ledger Family)
2nd Riverwood Thelma 6 (Ledger Family)