This year Illawarra numbers at the Brisbane Ekka held steady at 50 head with Ben Govett, Vic, presiding as Judge.
The big battle of the day seemed to be in the Intermediate classes with Greg and Bronwyn English travelling from Malanda to display their triple champion from the northern show scene, Eacham Vale Precious 7, against the outstanding Intermediate Champion from the Gatton Showcase, Myrtleholme Lemon Empress 66 exhibited by J P Bourke & Co. There was much conjecture in the lead up to judging on which was the better heifer with opinion split but on judging day, Eacham Vale Precious 7 got the gong of Champion Intermediate ahead of Myrtleholme Lemon Empress 66 in Reserve. Prior to the championship class, Precious also took out the prestigious Best Udder & Attachment U3yrs with Lemon Empress again placing second.
Opinion ringside was that both were tremendous heifers with wonderful natural udders, a credit to the breed and their exhibitors.
Eacham Vale Precious 7 went on to win Supreme Intermediate Udder and Supreme Reserve Champion Intermediate.
Congratulations to Allen & Denise Whatman on taking out Supreme Champion Junior Heifer with their 6mths & U10mths heifer, Allenvale Blossom 41.
As usual a great battle went on in the on-ground milking competition, with a number of Illawarra cows producing tremendous litres. Unfortunately, all but one did not meet one of the qualification requirements for Fat and Protein percentages.
Riverwood Coral 3, s. Happy Valley Parker (Ledger Family) led the pack across all breeds with 48.92 kgs of milk, closely followed by Rob & Jo Lindsay's St Andrews Dale 84, s. St Andrews Faber, with 48.84 kgs of milk. Unfortunately, both just failed to qualify. While Coral had 4.32% fat she did not meet the 3% Protein requirement. Dale had a Protein test of 3.2% but just failed in the Fat %. F S Johnston & Sons' Den Dia Belle 63, s. Den Dia Blewett, produced 44.14 kgs of milk for 4.44% Fat but also failed to qualify for Protein. However, tremendous litres from all three cows.
Bringing home the bacon for the breed winning the Neil & Shirley Shelton Memorial Trophy and being named All Breeds Champion Fat Plus Protein and Champion Milk Producing Cow was Jondene Velda 7, s. Jondene Ford (F S Johnston & Sons) producing 40.32 kgs of milk in 24 hours for a total of 3.044 kgs of Fat plus Protein.
In the Intermediate's F S Johnston & Sons' Jondene Jinny 19 (Jondene Drummer) was named All Breeds Champion Milk Producing Intermediate and Reserve Champion Fat & Protein Intermediate with figures of 26.8 kgs of milk and 1.715 kgs of Fat plus Protein.
Congratulations to Clinton Vonhoff on being awarded the third ICSA Qld Branch Young Ambassador Award. Clinton and wife Mel, have taken over the family farm and are increasing their Illawarra herd with great success. Clinton has also taken on the responsibility of Chairman of the Darling Downs Illawarra Cattle Club. A huge thank you to John and Geraldine Nahrung for sponsoring this award which is awarded from time to time by the Queensland Branch Committee when a young person comes to the fore in the breed. Previous winners have been Steven Ledger and Matt Henry.
Check out all Tanya Pratten's photos of class winners and presentations, in the Photo Gallery.
Pic below:
Clinton Vonhoff & wife Mel, receiving his Young Ambassador Award from sponsor John Nahrung (Left) and Qld Branch President Keith Dorries (Right).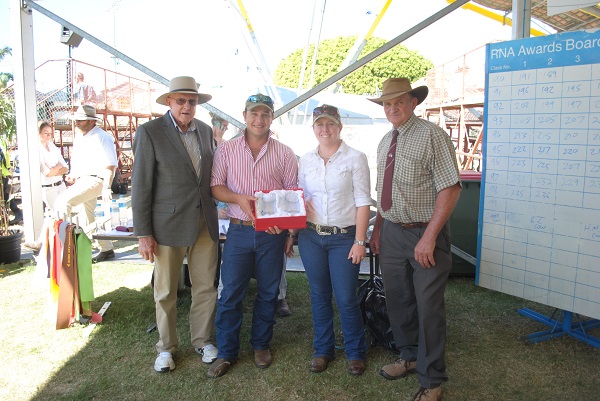 FULL RESULTS:
Class 1 – Heifer 6mths & U10mths
1st A & D Whatman – Allenvale Blossom 41, s. Panorama Anticipation, d. Allenvale Blossom 15
2nd Phillips Nichols Barron – Sunny View Barbwire Pamela, s. Hylite Barbwire, d. Sunny View Pamela 2
3rd Phillips Nichols Barron – Sunny View Absolute Fussy, s. Apples Absolute, d. Sunny View Buttler Fussy.
Class 2 – Heifer 10mths & U15mths
1st Phillips Nicholls Barron – Sunny View Barbwire Pauline, s. Hylite Barbwire, d. Sunny View Parkes Pauline
2nd M & G Henry – Tara Vision 15, s. Wallumlands Blushs Savard, d. Tara Vision 5
3rd A & D Whatman – Allenvale Blossom 39, s. Wallumlands Blushes Savard, d. Allenvale Blossom 16
Class 3 – Heifer 15mths & U20mths dry
1st M & G Henry – Tara Carol 3, s. Stormen Jetson, d. Tara Carol
Class 4 – Heifer 20mths & U2yrs dry
1st F S Johnston & Sons – Jondene Jessie 19, s. Jondene Drummer, d. Jondene Jessie 9
2nd M & G Henry – Tara Panda 13, s. Myrtleholme Thorpe, d. Tara Panda 6
HAROLD THOMPSON MEMORIAL CHAMPION JUNIOR FEMALE: ALLENVALE BLOSSOM 41 – A & D WHATMAN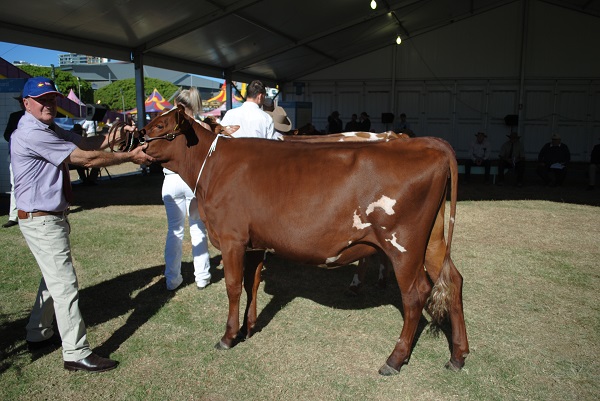 RESERVE CHAMPION JUNIOR FEMALE: SUNNY VIEW BARBWIRE PAMELA – PHILLIPS NICHOLS BARRON
HONOURABLE MENTION JUNIOR: SUNNY VIEW BARBWIRE PAULINE – PHILLIPS NICHOLS BARRON
Class 5 – Cow or Heifer, 2yrs & U3yrs dry
Nil entries
Class 6 – Heifer 2yrs old & under in milk
1st A & D Whatman – Allenvale Blossom 34, s. Kite Advert, d. Allenvale Blossom 17
Class 7 – Heifer 2yrs & U 2.5yrs in milk
1st G & B English – Eacham Vale Precious 7, s. Silverleigh Manhattan, d. Eacham Vale Precious 4
2nd F S Johnston & Sons – Jondene Jinny 19, s. Jondene Drummer, d. Jondene Jinny 12
3rd F S Johnston & Sons – Jondene Beauty 46, s. Jondene Drummer, d. Jondene Beauty 40
Class 8 – Heifer/Cow 2.5yrs & U3yrs in milk
1st J P Bourke & Co – Myrtleholme Lemon Empress 66, s. Myrtleholme Callum, d. Myrtleholme Lemon Empress 35
2nd F S Johnston & Sons – Jondene Ruby 2, s. Jondene Drummer, d. Jondene Ruby 3
3rd M & G Henry – Tara Panda 12, s. Lemon Grove Bygold, d. Tara Panda 6
Class 9 – The Dave Savage Memorial Group of Three Heifers under 3yrs
1st F S Johnston & Sons
2nd M & G Henry
Class 10 – The Reg Peters Memorial Cow or Heifer Best Udder & Attachment, U3yrs old sponsored by AgriGene Pty Ltd
1st G & B English – Eacham Vale Precious 7, s. Silverleigh Manhattan, d. Eacham Vale Precious 4
2nd J P Bourke & Co – Myrtleholme Lemon Empress 66, s. Myrtleholme Callum, d. Myrtleholme Lemon Empress 35
3rd F S Johnston & Sons – Jondene Ruby 2, s. Jondene Drummer, d. Jondene Ruby 3
FRED & BETTY SLATTER CHAMPION INTERMEDIATE FEMALE: EACHAM VALE PRECIOUS 7 – G & B ENGLISH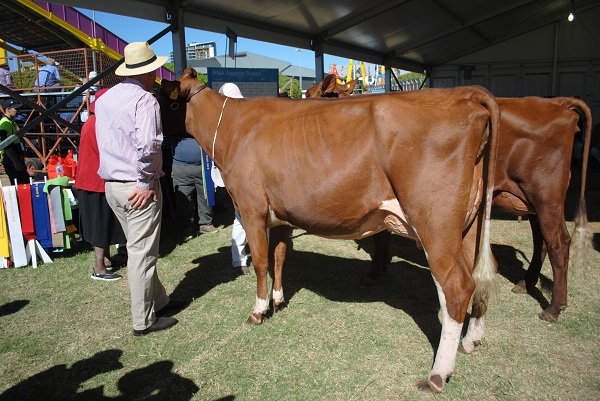 RESERVE CHAMPION INTERMEDIATE FEMALE: MYRTLEHOLME LEMON EMPRESS 66 – J P BOURKE & CO
HONOURABLE MENTION INTERMEDIATE FEMALE: JONDENE RUBY 2 – F S JOHNSTON & SONS
Class 11 – Cow 3yrs & over dry
1st M & G Henry – White Park Minnie 29, s. Lemon Grove Bygold, d. White Park Minnie 26
2nd F S Johnston & Sons – Jondene Jackie 9, s. Jondene Design, d. Jondene Jackie 5
Class 12 – Cow 3yrs & U4yrs in milk
1st F S Johnston & Sons – Jondene Velda 10, s. Jondene Design, d. Jondene Velda 7
2nd R & J Lindsay – Silverleigh Cindy 106, s. Warramont Advent Flame, d. Silverleigh Cindy 72
3rd M & G Henry – Tara Cherry 10, s. Panorama Attention, d. Tara Cherry 8
Class 13 – Cow 4yrs & U5yrs in milk
1st Ledger Family – Riverwood Coral 3, s. Happy Valley Parker, d. Riverwood Coral
2nd Eight Mile Agri Trust – St Andrews Dale 90, s. Apples Absolute Red, d. St Andrews Dale 61
3rd Ledger Family – Riverwood Sugar Topsy, s. Moyola Adventurer, d. Odaleigh Sugar Topsy 5
Class 14 – Cow 5yrs & U6yrs in milk
1st Phillips Nichols Barron – Allenvale Virgin 13, s. Venvale Prince, d. Allenvale Virgin 8
2nd J P Bourke & Co – Myrtleholme Glenda 65, s. Myrtleholme Dane, d. Myrtleholme Glenda 49
3rd F S Johnston & Sons – Jondene Barbara 18, s. Jondene Lucky, d. Jondene Barbara 9
Class 15 – Cow 6yrs & U7yrs in milk
1st M & G Henry – Tara Dahlia 15, s. Tara Statesmen, d. Tara Dahlia 14
2nd J P Bourke & Co – Myrtleholme Lauren 12, s. Llandovery Jinnys Empire, d. Myrtleholme Lauren 5
3rd M & G Henry – Venvale Thelma 121, s. Llandovery Verbs Viscount, d. Venvale Thelma 120
Class 16 – Cow 7yrs & over in milk
1st Phillips Nichols Barron – Sunny View Duchess, s. Sunny View Majestic, d. Chelmonte Duchess 4
2nd A & D Whatman – Allen Vale Blossom 16, s. Llandovery Jinnys Empire, d. Jondene Blossom 2
3rd F S Johnston & Sons – Den Dia Belle 63, s. Den Dia Blewett, d. Den Dia Belle 58
Class 17 - The James Teese Memorial Group of Three Females
1st Phillips Nichols Barron
2nd F S Johnston & Sons
3rd M & G Henry
Class 18 – Maternally Related Family Group
1st F S Johnston & Sons, d. Jondene Velda 7
2nd A & D Whatman, d. Jondene Blossom 2
3rd R & J Lindsay, d. Silverleigh Cindy 106
Class 19 – Sire's Progeny Group
1st F S Johnston & Sons, s. Jondene Design
2nd M & G Henry, s. Bygold
Class 20 – Cow 3yrs & over Best Udder & Attachment sponsored by Semex Pty Ltd
1st Phillips Nichols Barron – Allenvale Virgin 13, s. Venvale Prince, d. Allenvale Virgin 8
2nd Ledger Family – Riverwood Coral 3, s. Happy Valley Parker, d. Riverwood Coral
3rd Phillips Nichols Barron – Sunny View Duchess, s. Sunny View Majestic, d. Chelmonte Duchess 4
COOLOOLA CUSTOM STOCKFEED & CLARRIE MARQUARDT MEMORIAL CHAMPION ILLAWARRA COW: ALLENVALE VIRGIN 13 – PHILLIPS NICHOLS BARRON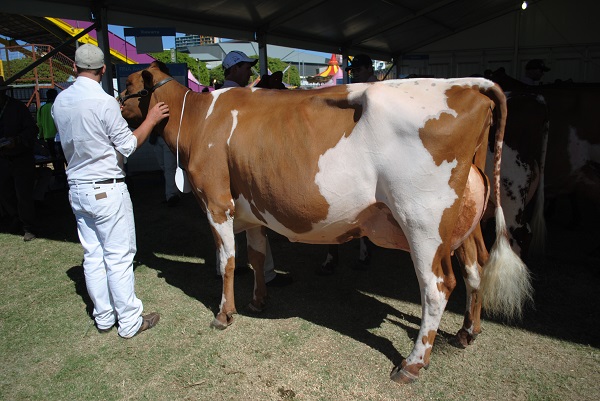 RESERVE CHAMPION COW: SUNNY VIEW DUCHESS – PHILLIPS NICHOLS BARRON
HONOURABLE MENTION COW: ALLEN VALE BLOSSOM 16 – A & D WHATMAN
MOST SUCCESSFUL EXHIBITOR – F S JOHNSTON & SONS
MOST SUCCESSFUL BREEDER – F S JOHNSTON & SONS
ON GROUND MILKING COMP:
CHAMPION ALL BREEDS FAT & PROTEIN COW: JONDENE VELDA 7 – F S JOHNSTON & SONS
CHAMPION ALL BREEDS MILK PRODUCING COW: JONDENE VELDA 7 – F S JOHNSTON & SONS
CHAMPION ALL BREEDS MILK PRODUCING INTERMEDIATE: JONDENE JINNY 19 – F S JOHNSTON & SONS
RESERVE CHAMPION ALL BREEDS FAT &PROTEIN INTERMEDIATE: JONDENE JINNY 19 – F S JOHNSTON & SONS
SUPREME JUDGING:
SUPREME CHAMPION JUNIOR HEIFER: ALLENVALE BLOSSOM 41 – A & D WHATMAN
SUPREME CHAMPION INTERMEDIATE HEIFER: EACHAM VALE PRECIOUS 7 – G & B ENGLISH