Red Cow Enthusiasts from Northern Victoria and Southern Riverina featured in the winners of the 2017 Victorian Red Cow on Farm Challenge. Organised by the Victorian Branch of the Illawarra Cattle Society of Australia the competition is open to all Illawarra and Aussie Red Cows from throughout the Southern Riverina and Victoria.
The Hayes family of Llandovery Stud, Girgarre and the Warburton Family of Glen Meadow Stud, Denliquin dominated the place getters. Long-time exhibitor Garry Mills who breeds Aussie Reds had a successful competition with several entries placing in the top ten.
The 2017 competition saw a return to near record numbers with two hundred and twenty entries that provided the judge, Mitchell Flemming of Total Livestock Genetics and Miami Jerseys a challenge as he judged the entrants across Victoria and Southern NSW. The competition saw six new exhibitors participate for the first time and along with a number of Aussie Red breeders.
Barry & Rosie Warburton from Deniliquin won the Commercial Cow Class with Glen Meadow Peachy 350 by GM Jeremy
Hayes Family from Girgarre won the 2-year-old in milk class which had record 64 entries with Llandovery IK Stella 1515 sired by Schrago Remedy Ikar.
Jamie and Ashleigh Noon from Yarroweyah won the 3-year-old in Milk Class (41 entries) with Next Generation PP Blush sired by Prides Prophet.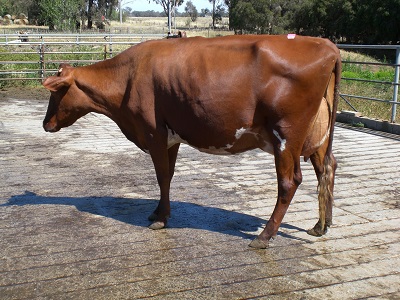 Prussian Pride H-Tulip Millie sired by HTulip which is owned by Lachlan Alwer from Invergordon in partnership with Jason Smith from Horfield placed first in the 4-year-old in milk class (24 entries)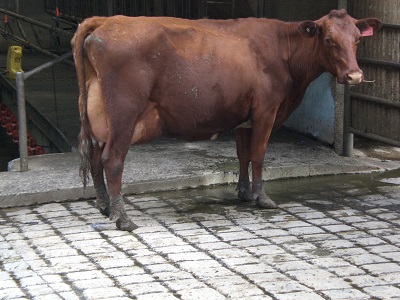 The Tuhan Family from Tatura won the five-year-old in milk class (36 entries) with Riversleigh Vprince Tulip 12 sired by VPRINCE.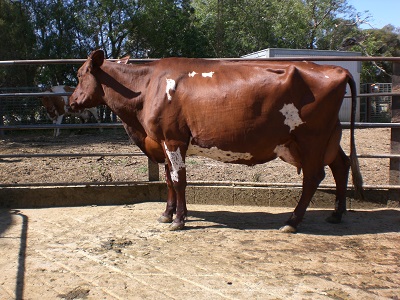 The Mature Cow Class (26 entries) was won by the Hayes Family with Llandovery Ja-Bobs Stella 822 sired by L Ja Bobs Sam.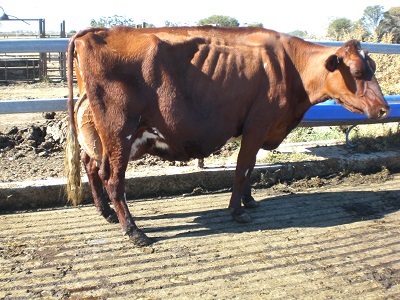 The Janette Falls Elders Finley New Exhibitor Award was awarded to the Daniel Family from for Ovensdale Scarlet 351 which was the highest place new entrant.
Overall Champion went to the winner of the Mature Cow Class Llandovery Ja-Bobs Stella 822 owned by the Hayes Family from Girgarre.
Reserve Overall Champion went to 2nd place in the Matura Cow Class, Warrawee Park Gladys 10 owned by Barry and Rosie Warburton of Deniliquin.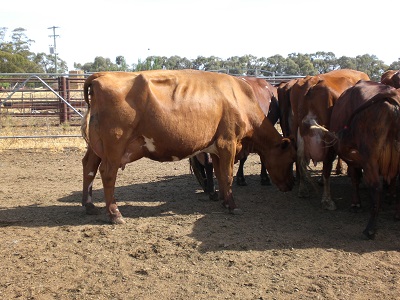 Honourable Mention was awarded to Next Generation PP Blush, winner of the 3-year-old in milk class, owned by Jamie and Ashleigh Noonan.
The judging culminated in a presentation dinner held last Friday Night at Mooroopna, where judge Mitchell Flemming of Miami Jerseys presented the results to exhibitors and breed enthusiasts at Mooroopna. North west Victorian members and entrants met together in Camperdown to hold a dinner and hear the results.
The 2017 competition was sponsored by Genetics Australia, Crazy Cow, Tatura Milk and Janette Falls from Elders Finley. For full results click on the following link:
pdf VIC OF CHALLENGE RESULTS 17 1 (200 KB)
Judge, Mitchell Flemming:
"The depth of the competition was incredible. Being a state-wide competition, you get to get out and see some really nice cows hidden away that we don't know about or get to see at the shows. The two-year-old class was terribly tough. There was 60 odd entries, and was a number of really nice individuals that couldn't fit in to the top 10. That said, the winner did it quite handily. The aged cow class was my favourite. I thought I saw my winner on the first day, she ended up 5th. Good ones continued to come. My overall champion came from this class, a tremendous individual possessing so much dairy strength, a beautiful mammary system, so much balance and cleanliness of bone, and showing great mobility and functionality for a big cow. I really appreciate the opportunity to judge, a great experience I will remember for a long time. Thank you to everyone for their hospitality and assistance, particularly Michael Tuhan and Raymond Parker for the power of work they do to allow the competition to operate."