Recently the English Family from Malanda, North Queensland, featured in the Country Life. Their story courtesy of the Country Life newspaper and freelance journalist, Lea Coghlan of Lea Coghlan Communications, follows.
Family nears show milestone
MALANDA dairyfarmers Gregand Bronwyn English and their children are preserving a historic English family tradition – showing dairy cattle. Each of the seven children shows a calf, with the family's show team at Malanda, Cairns and Atherton sometimes numbering up to 25 head.
The 100th Malanda Show in 2016 marks 100 years of the English family showing dairy cattle. "The English family has never missed a single Malanda Show and to be able to say that you have done something for 100 years is a remarkable milestone," Greg said. "A generation ago, people used to have a connection with a farmer or someone on the land. "But that's changed and for a lot of people, shows are the only connection they have to rural Australia.
"It's our shop window where people can look at the cows, pat a calf and watch milking. It's an opportunity to promote our industry."
After arriving in 1908, family patriarch James English, Greg's great-grandfather who started the Malanda dairy industry with one bull, six cows, six heifers and six working bullocks, became one of the largest and best known dairy exhibitors on the far north show circuit.
The reins have been handed down through generations and today, the fifth generation – Greg and Bronwyn's seven children – take their place with pride in the show arena.
Last year Eachamvale Illawarras scooped the prize pool, with Eachamvale Chance 22 winning champion heifer at Malanda, Atherton and Cairns shows and receiving the inaugural triple crown for the most coveted dairy cow.
Eachamvale Illawarras won the inaugural triple crown for the most coveted dairy cow from the Malanda, Atherton and Cairns Shows in 2013. Greg and Brown English and their children are pictured below with judge Baden Teese of Beaudesert.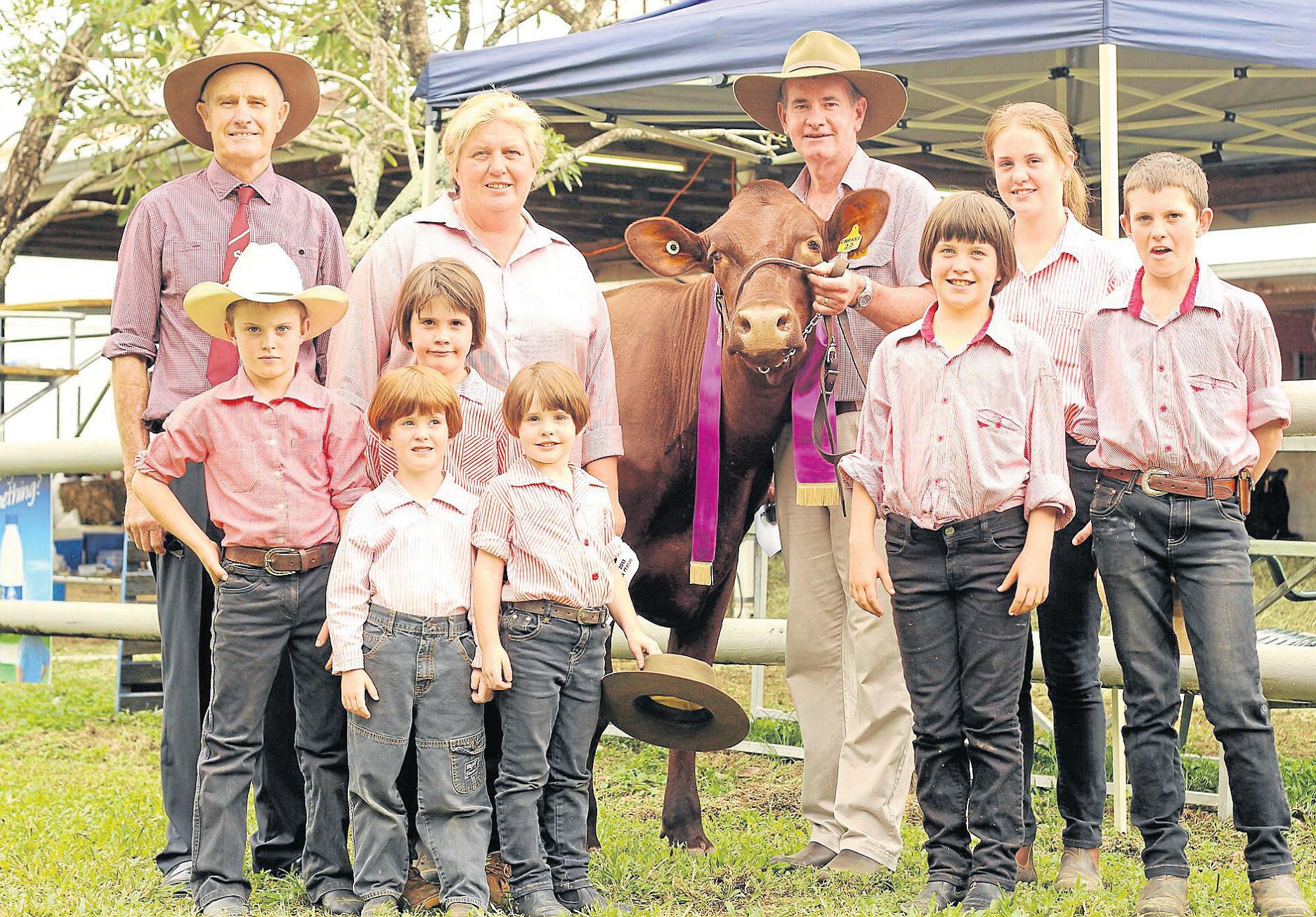 "To be able to say you have done something for 100 years is a remarkable milestone"
Dairy farming in the blood
THERE'S no shortage of conversation around the dinner table at far north Queensland dairy farm, Eachamvale Illawarras. With seven children – Rachel, 14, Jerry, 13, Catherine, 11, Patrick, 10, Hannah, 8, and twins Mary and Frances, 5, – and 180 cows to milk twice a day, there is certainly never a dull moment for Greg and Bronwyn English.
The family runs the dairy farm – started by Greg's parents Kevin and Trish English – on the outskirts of Malanda. Dairying well and truly runs in the veins of Greg and Bronwyn. Greg is a fourth-generation dairy farmer, whose great-grandfather, James English, started the industry in Malanda in 1908 when he moved from Goonengerry, northeast of Sydney, and settled in far north Queensland. Bronwyn's grandfather, JC Daley, selected and cleared land at Millaa Millaa, which his descendants continue dairy today.
"Personally, I have always loved milking cows and have always gone to the dairy," Greg said. "I used to say I was at the dairy as soon as I could walk but my brothers and sisters say I used to ask them to carry me to the dairy before I could walk.
"I have been there ever since."
The milking herd comprises three-quarters Illawarras, with the remaining Holsteins. The herd is split between the 70 hectare family farm, with two additional properties leased for heifers and dry cows. As if milking twice a day, 365 days a year, tending to the farm and running a house with seven children wasn't enough, both Greg and Bronwyn are active in the community.
Bronwyn is the president of the parents and citizens associations at the Malanda primary and high schools, while Greg is vice-president of the Queensland Branch of the Illawarra Society and Malanda Show Society, director of the Tableland Co-operative Artificial Stock Breeding in Malanda and serves on the local school bus committee. The couple also play host to school children from Malanda Primary School who get to enjoy the farm experience – from seeing a calf to watching milk being loaded on to the milk tanker.
"We live in a small community but we want our kids to have every opportunity available to them," Bronwyn said. "As parents, you have to be prepared to put in the effort to make sure things are as good as they can be for our kids.
"It also instils in our children that they can't sit back and expect everyone else to do things for them."
With life so busy, each and every member of the brood contributes in various ways. Rachel is a gun in the kitchen, while Jerry and Catherine help milk. Patrick helps muster the cows for milking, Hannah enjoys feeding the young calves and the twins know their way around the laneways and gates. Grandmother Trish helps with day-to-day operations in the busy household, while Greg's father, Kevin, is in a nursing home having suffered a stroke.
"With seven children, everyone has to help and do something," Greg said. "Living on a farm teaches them so much responsibility; it teaches them how to drive, how to close a gate so stock don't get out. Before they realise it, they know so much."
Although they aren't pushing it, Greg and Bronwyn hope the fifth-generation of the English family will carry on the family's dairying tradition. But they are concerned about the future of the industry, whose farmer numbers have dwindled since deregulation in 2000 from 180 to about 50 today.
"The absolute unregulated power that Coles and Woolworths have, not just in the supermarket industry, but across the board, is detrimental to Australian food processors," Greg said. "Australians need to realise the quality of food they eat and they must stop believing the supermarket nonsense and be willing to pay for it.
"At the very minimum, we need a five cents per litre increase for our milk, with more to follow.
"We just hope the rest of Australia can see how valuable its primary producers are in feeding Australia
Pictured: Bronwyn and Greg English with Greg's mother Trish.