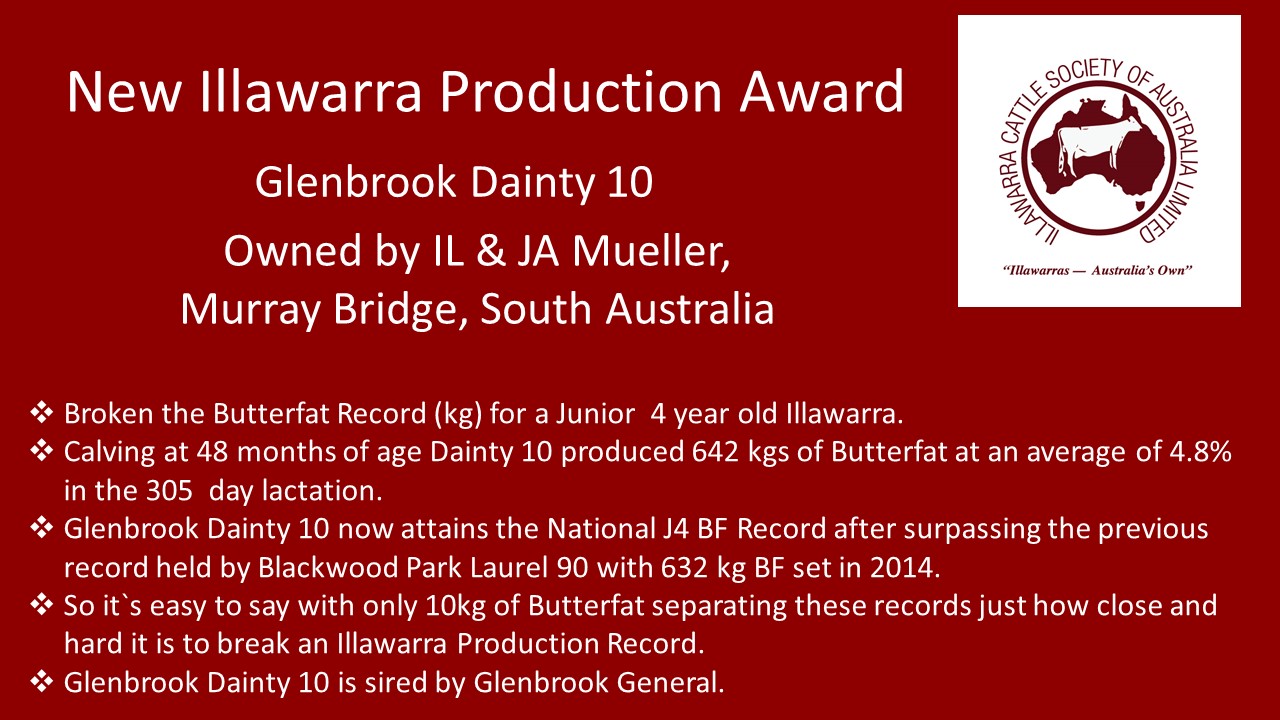 The Production Committee of the ICSA is proud to announce that Glenbrook Dainty 10 bred & owned by IL & JA Mueller of Murray Bridge South Australia has broken the Butterfat Record KG for a Junior 4 yr old Illawarra.
Calving at 48 months of age Dainty 10 produced 642 kgs of Butterfat at an average of 4.8% in the 305 day lactation.
Glenbrook Dainty 10 now attains the National J4 BF Record after surpassing the previous record held by Blackwood Park Laurel 90 with 632 kg BF set in 2014. So it`s easy to say with only 10kg of BF separating these records just how close and hard it is to break an Illawarra Production Record.
Glenbrook Dainty 10 is sired by Glenbrook General.
Congratulations to the Mueller Family.
Brian Parker
Spokesperson for the Production Committee ICSA
See the National 305 Day Production Report (as of 31 January 2021) below:
AGE
MILK
PROT
B/FAT
NAME OF COW
OWNER
SIRE
YEAR
S1
11571
371
452
Blackwood Park Buttercup 232 *
JC Altmann & Son
Verbs Vicount
2015
J2
14029
398
Blackwood Park Princess Lady 13 *
JC Altmann & Son
Rodway Moses
2018
514
Blackwood Park Empress 40 *
JC Altmann & Son
LG Bumper
2013
S2
12103
388
Blackwood Park Della 8 *
JC Altmann & Son
W.Handsome Tulip
2008
498
Blackwood Park Rosebud 98 *
JC Altmann & Son
Silverleigh Monarch
2010
J3
15063
452
Blackwood Park Buttercup 232 *
JC Altmann & Son
Verbs Viscount
2016
496
Blackwood Park Buttercup 225 *
JC Altmann & Son
Royal Treble
2012
S3
13344
413
St. Andrews Flora 110
Lester Family
Royal Treble
2018
413
Glenbrook Venus 19
I & J Mueller
LG Bumper
2012
572
Blackwood Park Susie 54 *
JC Altmann & Son
Blackwood Park Taz
2009
J4
15288
Blackwood Park Buttercup 225 *
JC Altmann & Son
Royal Treble
2013
642
Glenbrook Dainty 10
I & J Mueller
Glenbrook General
2019
464
Treeton Princess 2273
G & R Williams
Syd Frem
2010
S4
13265
417
Creighton Park Elizabeth 1589
Parkers Dairy
Ky Blue Marquess
2011
536
Llandovery Kaiser Plum
T & E Hayes
Elmcroft Kaiser
2007
MAT
15964
Blackwood Park Dot 17 *
JC Altmann & Son
Fradon Jet Red
2016
526
Blackwood Park Josephine 2 *
JC Altmann & Son
HOExcellent
2015
649
Blackwood Park Buttercup 225 *
JC Altmann & Son
Royal Treble
2014
* Defines Milking 3 times a day