Seven exhibitors took to the field for the recent 2011 Shepparton Show and although D & M Tuhan were Most Successful Exhibitors, the broad ribbons were spread around the field.
The Hayes family were again successful with Llandovery Empires Freda in the senior classes taking out Senior Champion Cow doubling up on her championship at Melbourne Show. Llandovery Viscounts Joan was named Reserve Intermediate.
Raymond and Sarah Parker won Intermediate Champion with their 3yr old Glencliffe Carlee 479.
Junior Champion went to Terry and Ursula Tidcombe with Wallamlands Margaret 7. The Tidcombe's also took out Honourable Mention Senior Champion Cow with Wallamlands Blush 4.
D & N Collins won Reserve Champion Junior with Erindale Nadine's Diana 5.
Most successful exhibitors, D & M Tuhan, won Reserve Senior Champion with Alston Kit Kat Honeymoon who also won Best Udder.
Full results available at News/Show Results/2011.
Champion Cow Lineup: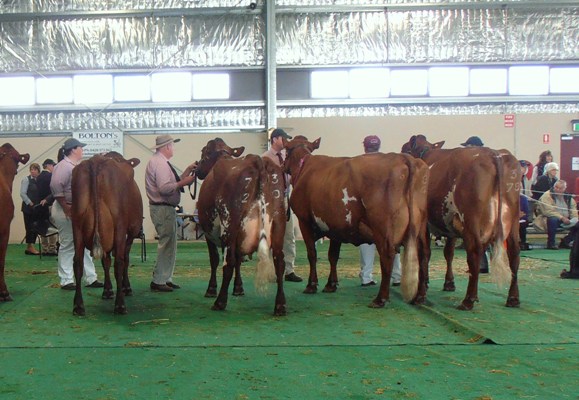 L-R: Reserve & Champion Intermediate :