LAKE BREEZE SA ILLAWARRA ON FARM CHALLENGE, NOVEMBER 2015
Judged by Adrian Young from Glencoe in SA's South East. Adrian is now retired, having handed over his Glenmar Holstein Stud to the next generation.
Judge's comments -
Class 1
Just a great class of 2 year old heifers. This shows that the future of the breed looks very good.
The first cow is just a super dairy cow sharp boned deep body with great loin strength with a long wide rump. She displays a very well attached udder with great teat placement.
The cow I placed 2nd has been calved since March. She shows good depth and openness of rib with a well attached udder and walks on a good set of legs and feet.
3rd cow is a long cow with a well attached udder and with a strong ligament.
4th cow is a lovely boned and open and angular ribbed animal and also has great veining and soft udder.
5th cow is a good deep body heifer with a well attached udder with good teat placement.
A very good group of young heifers.
Class 2
The second class has a super dairy cow in first place. She has a good strong muzzle with very open nostrils with a very soft udder with great veining.
2nd cow is a long deep body cow with a long wide rump and has a soft and well attached udder.
3rd cow is a good boned cow with a long wide rump with good pin set with a high wide rear udder with good ligament.
4th cow is a little deep in the brisket for now but has been calved 9 months. I'm sure she would milk it off. She has a great wider rump with a well attached udder with good teat placement.
5th cow is a good angular cow with a good attached fore udder and has good teat placement.

Class 3
We start with a long deep body cow with a great attached udder both fore and rear with great teat placement and length. Lovely front end cow with vertebra and walks on a good set of legs & feet.
2nd cow has a deep body, strong loin, a well attached udder with good teat placement and walks on a good set of legs & feet.
3rd cow is a little side quartered she is a deep opened ribbed cow with a long wide rump and displays a good centre ligament.
4th cow lacks a bit of strength; she has a well attached udder with good teat placement.
5th cow is angular with a well attached udder with good veining and walks on a good set of legs & feet.

Class 4
1st place goes to an open nostril and wide muzzle cow with a deep open body with a well attached udder especially the high and wide rear udder. There is not much between the 1st & 2nd cow except for front teat placement.
2nd cow is another deep ribbed cow with a long wide rump with good pin set a high wide rear udder with good veining to the udder.
3rd cow displays good dairyness with nice veining of the udder and good centre ligament.
4th cow is a deep body strong loin cow with a long wide rump with a high wide rear udder.
5th cow is a good wide muzzled cow with a well attached udder with good veining to the fore & rear udder.

Class 5
The mature class we start with 3 sharp boned cows.
Cow in first place has a strong wide muzzle, great front end with big deep body and a well attached udder with good teat placement and a super wide rear udder and a very well attached udder for a 9 year cow.
2nd is a six year old with great openness and angular rib long wide rump with good pin set. She has an attached fore & rear udder and walks on a good set of legs.
3rd cow is also a 9yr old cow with a wide muzzle and strong loin with a good long wide rump with good veining to the udder.
4th cow is a deep body strong loined cow who has a super wide rear udder and handles this udder well for an 11 year old cow.
5th cow is a little side quartered but has a super long deep body with a well attached udder and a log wide rump.
5 great mature cows a credit to the breeders.

RESULTS

Class 1: Two years old, born 2013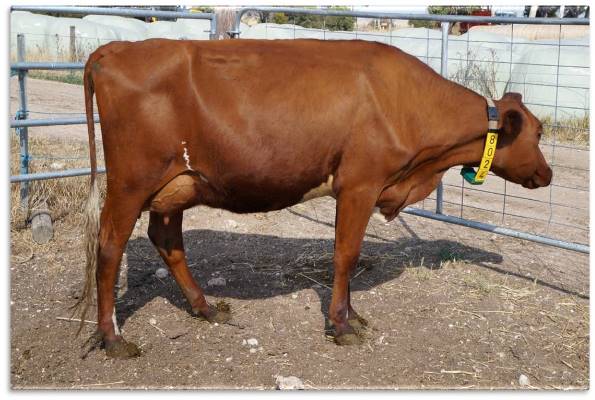 1st & Reserve Champion: Damien Doecke, Bridge View Thorn 10. S: Glenhaven Peleton.
2nd: DJ&MA Kuhl, Braelee Pet 18. S: Treeton Pimp.
3rd: DJ&MA Kuhl, Braelee BB Maida. S: Braelee Bentley.
4th: Altmann Family, Blackwood Park Empress 49. S: Myrtleholme Thorpe.
5th: Altmann Family, Blackwood Park Kelly 3. S: Myrtleholme Thorpe.

Class 2: Three years old, born 2012

1st: Hamilton's Run, Cluain 3448 Princess. S: Haithabu.
2nd: WN&CA Doecke, Springvale Verbena 7. S: Ovensdale Scarlets Marcel.
3rd: Altmann Family, Blackwood Park Beauty 86. S: Lynonga Poplars Empire.
4th: DJ&MA Kuhl, Braelee Clarabelle 73. S: Holmland Ferrari Red.
5th: Thomas Follett, Glenbrook Belle 50. S: Glenbrook Bullfrog.

Class 3: Four years old, born 2011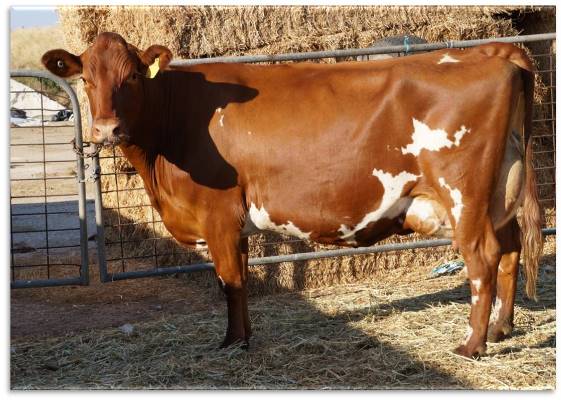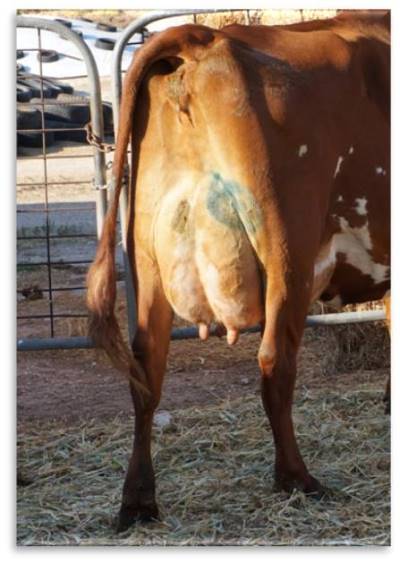 1st & Champion: IL&JA Mueller, Braelee BP Dairymaid 2. S: Blackwood Park Blitz.
2nd: Damien Doecke, Bridge View Jenny 10. S: Llandovery Dynamic.
3rd: WN&CA Doecke, Springvale Pride 26. S: Llandovery Dynamic.
4th: DJ&MA Kuhl, Braelee GA Rosebud. S: Greenlea Artie.
5th: WN&CA Doecke, Springvale Picture 3. S: Springvale Brigadier.

Class 4: Five years old, born 2010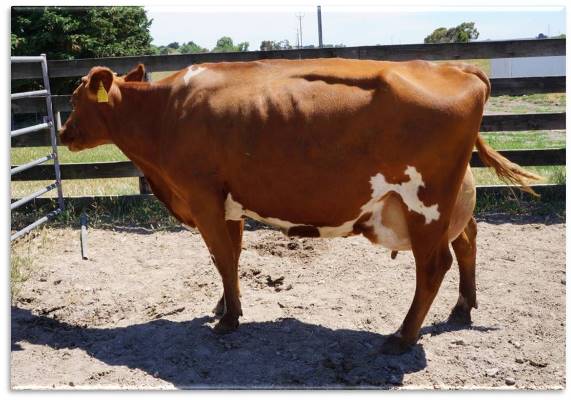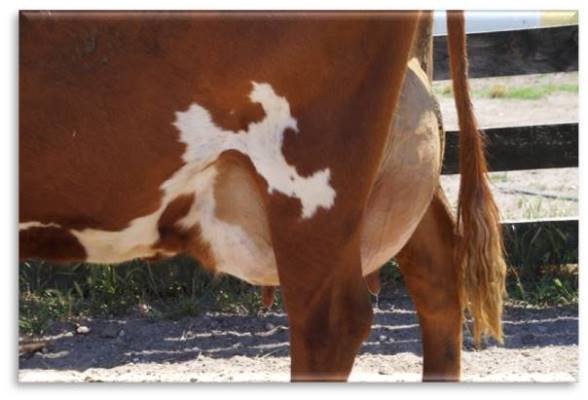 1st: DJ&MA Kuhl, Braelee Princess 163. S: Barandonk Trendsetter.
2nd: Altmann Family, Blackwood Park Kara 2. S: Panorama Aramis.
3rd: Mike Green, Waikato Farm Princess 3758. S: J Valon.
4th: Altmann Family, Blackwood Park Jean 34. S: Glenbrook Bruce.
5th: Hamilton's Run, Cluain 2941 Queenie. S: Fradon Jet-Red.

Class 5: Six years and over, born 2009 or before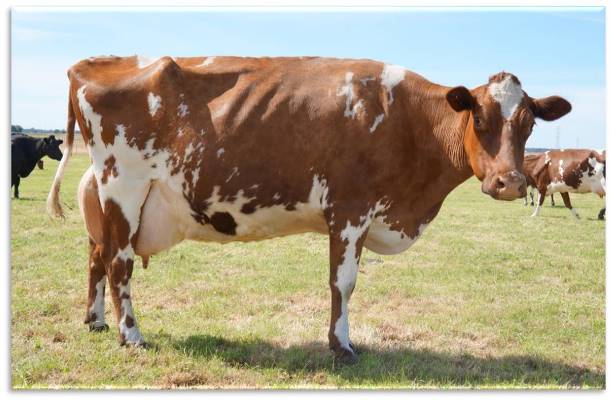 1st & Honorable Mention: DJ&MA Kuhl, Braelee Jean 4. S: Rosedale-L Rampage Red.
2nd: Mike Green, Waikato Farm Irma 3699. S: NZG Nigelo.
3rd: Altmann Family, Blackwood Park Susie 56. S: Llandovery Jinnys Empire.
4th: Altmann Family, Blackwood Park Jackie 7. S: Panorama Attention.
5th: WN&CA Doecke, Springvale Lady Calm 7. S: Luck-E Advantage-Red.

CHAMPION: IL&JA Mueller, Braelee BP Dairymaid 2
RESERVE CHAMPION: Damien Doecke, Bridge View Thorn 10
HONORABLE MENTION: DJ&MA Kuhl, Braelee Jean 4