Another big year in terms of entries at the Far South Coast National Show held at Bega.
Huge congratulations to Paul Ringland with Champion Illawarra Heifer which went on to win in the Interbreed class and also Aaron and Emma Salway on not only winning the Champion Illawarra Cow but also Champion Jersey Cow with Wilgo LC Queenie who also won Champion the week before at Cobargo Show.
Thanks to judge Geoff Cochrane for travelling down to judge at short notice. Story & photos - Penelope Russell.
RESULTS:
Class 1 – Cow in Milk Under 3 Years
1st Wilgo Ruth's Dixie – View Mount Ruths Treble - A & E Salway
2nd View Mount Jaclyn 25th - Myrtleholme Thorpe - RP & JP Ringland
3rd View Mount Colleen 71st – Myrtleholme Thorpe - RP & JP Ringland

Class 2 – Cow in Milk 3 Years and Under 4 Years
1st Wilgo Talent Kelly – Garwarra Talent Victor - A & E Salway
2nd Jelgowry Beauty 2nd – Absolute - Russell Family
3rd Sherringham Dynamic Sarah 3rd Llandovery Dynamic – Lucas Family

Class 3 – Cow in Milk 4 Years and Under 5 Years
1st View Mount Little Patch 14th – Panorama Landmine - Jess Ringland
2nd View Mount Blossom 18th – Treeton Pingerley - RP & JP Ringland
3rd Jelgowry Dainty 20th – Beauna Vista Beekeeper - Russell Family

Class 4 – Cow in Milk 5 Years and Under 6 Years
1st Jelgowry Ruth 4th –Clairfield Peapod - Russell Family
2nd Jelgowry Anz 4th – Clairfield Mocha - Russell Family

Class 5 – Cow in Milk over 6 Years
1st Sherringham Petition Wanda – Petition HF - Lucas Family
2nd Jelgowry Lilly 2nd – Jelgowry Stately Butler - Russell Family
3rd View Mount Penny 17th – Llandovery Jinnys Empire - RP & JP Ringland

Champion Illawarra Cow - Wilgo Talent Kelly – Garwarra Talent Victor - A & E Salway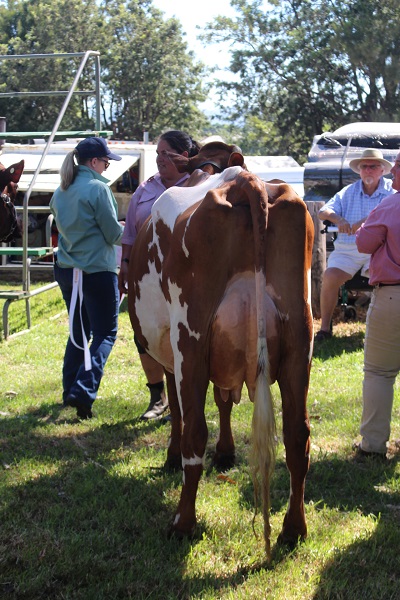 Reserve Illawarra Cow – View Mount Little Patch 14th – Panorama Landmine - Jess Ringland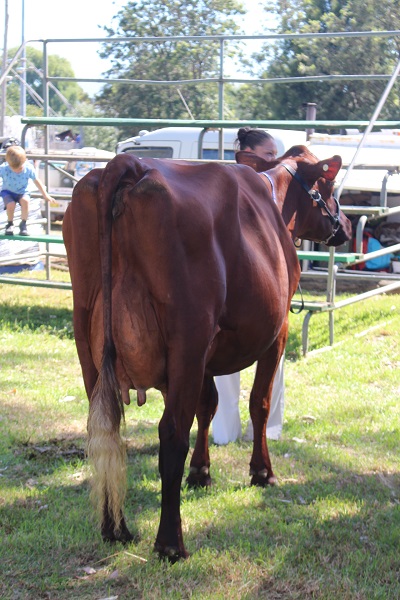 Class 6 – Best Udder
1st View Mount Little Patch 14th – Panorama Landmine - Jess Ringland
2nd Wilgo Talent Kelly – Garwarra Talent Victor - A & E Salway
3rd View Mount Blossom 18th – Treeton Pingerley - RP & JP Ringland

Class 7 – Pen of 2 Cows
1st – A & E Salway
2nd – Russell Family
3rd – RP & JP Ringland

Class 8 – Pen of 3 Cows
1st - Russell Family
2nd - RP & JP Ringland
3rd - Russell Family

Class 9 - Heifer 2 Years and Under 3 Years
1st Jelgowry Honey 16th – Prince Red (HF Bull) - Russell Family

Class 10 – Heifer 18 months and Under 2 years
1st Jelgowry Shiela 3rd – Llandovery Jinny's Empire - Russell Family

Class 11 – Heifer 12 Months and Under 18 months
1st View Mount Little Patch 30th – View Mount Ruths Parks - Jess Ringland
2nd Wilgo Ruth – View Mount Ruths Treble - A & E Salway
3rd Jelgowry O V Stately 14th – Llandovery Jinny's Empire - Russell Family

Class 12 – Heifer 9 Months and Under 12 Months
1st View Mount Regina 30th – Storman Jetson - RP & JP Ringland
2nd View Mount Little Patch 34th – Panorama Landmine - Jess Ringland

Class 13 – Heifer 6 months and under 9 months
1st Jelgowry Jo 18th – Jelgowry Tess' Blitz - Russell Family
2nd View Mount Spot – View Mount Rubble - Jess Ringland
3rd – View Mount Patch 72nd – RP & JP Ringland

Champion Illawarra Heifer - View Mount Regina 30th –Storman Jetson - RP & JP Ringland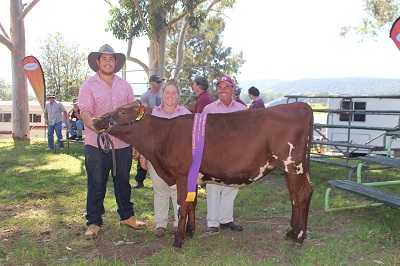 Reserve Champion Illawarra Heifer - View Mount Little Patch 30th –View Mount Ruths Parks - Jess Ringland

Class 14 – Pen of 2 Heifers
1st – RP & JP Ringland
2nd – Jess Ringland
3rd – Russell Family