The Victorian Branch Illawarra calf show was held on April 4th at the Kyabram show grounds combining once again with the Guernsey breed for a show, post show BBQ and games. This year's judge was Mrs Jessica Achen Gavenlock, of Cherrylock cattle co, Tallygaroopna, Victoria.
The junior and senior handlers classes were sponsored by Agrigene this year and as always were well supported. Winner of this year's junior handler went to Darby McClaren parading his heifer, Glencliffe Suzette 817. There were four handlers in the senior category with Charlie Loyld taking first place.
For her junior and reserve junior champion Jessica selected, Lara Sandman Gladys 3, a Kangawarra Sandman daughter owned by Erin Ferguson, and Riversleigh Treble Tulip 18, a daughter of the highly rated Panorama Royal Treble, owned by the Tuhan family.
For her senior champions, Jessica put forward the first and second place getters in the yearling class, both exhibited by the Hayes family and both Storman Jetson daughters. They were Llandovery Storman Lorna 1538 and Llandovery Storman Pride 1559.
The Agrigene Most Successful Exhibitor Award was won by the Hayes family. Story & photos - Raymond Parker.
Pictured below: Judge, Jessica Achen-Gavenlock catching up with Ray Gibson, Raymond Parker and Michael Tuhan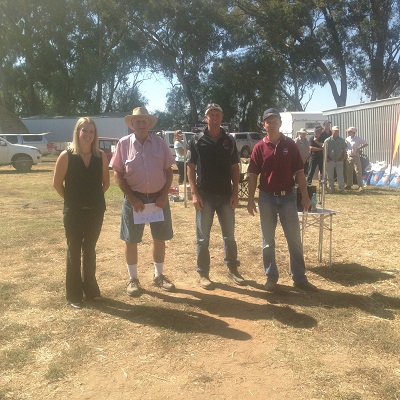 Show Results:
Junior Handler
1- Darby McClaran
2- Jasmine Johns
3- Josh Hayes
Senior Handler
1- Charlie Lloyd
2- Emily Lock
3- Shirilee Conner
4- Brooke Monk
Heifer born after 1st December 2015
1- Tim O'Loughlin - Bundarra Gaygirl 10
2- Hayes Family - Llandovery Prides Butter Venus 1690
3- Tim O'Loughlin - Bundarra Mayflower 4
Heifer born 1st September to 31 December 2015
1- Erin Ferguson - Lara Sandman Gladys 3
2- Tuhan Family. - Riversleigh Tuck Gladys 6
3- Hayes Family - Llandovery Visions Beauty 1656
4- Tuhan Family - Riversleigh Tuck Stella 28
Heifer born 1st July to 31st August 2015
1- Tuhan Family - Riversleigh Treble Tulip 18
2- Hayes Family - Llandovery Thorpes Gracie 1603
3- Tuhan Family - Riversleigh Empire Dulcie 11
4- Darby McClaran - Glencliffe Suzette 817
5- Johns Family - Ashton Jasell Air Buttercup 3
6- Johns Family - Ahton Jasell Air Beauty 8
Junior Champion - Erin Ferguson - Lara Sandman Gladys 3

Reserve Junior Champion - Tuhan Family - Riversleigh Treble Tulip 18
Heifer born 1st April to 30th June 2015
1- Hayes Family - Llandovery Jetson Lorna 1537
2- Hayes Family - Llandovery Jetson Pride 1559
3- Hayes Family - Llandovery Visions Verbena 1542
4- Tuhan Family - Riversleigh Pingerly Doris 4
Heifer born 1st January to 31st March 2015
1- Hayes Family - Llandovery LB Betty 1487
Heifer born 1st July to 31st August 2014
1- Tim O'Loughlin - Wallumlands Princess 25
2- Tim O'Loughlin - Bundarra Queenie 18
Senior Champion - Hayes Family - Llandovery Jetson Lorna 1537

Reserve Senior Champion - Hayes Family - Llandovery Jetson Pride 1559

Sires Progeny
1- Hayes Family - Storman. Jetson
2- Hayes Family - Llandovery Verbs Vision
3- Tuhan Family - Riversleigh Tuck
4- Johns Family - Silverleigh Maxima
Pen of three females
1- Hayes Family
2- Hayes Family
3- Tuhan Family
Agrigene Most Successful Exhibitor- Hayes Family