While entries for the 2016 Real Australian Photo Comp, have just closed at the 2017 International Dairy Week, the following are the results from the 2015 competition, as published in the CrazyCow magazine's September-November 2016 edition. The following is courtesy of Dean and Di Malcolm editors of CrazyCow in Print magazine.
Last year's Illawarra judge from IDW, Ryan Weigel, came to the additional job of judging the Real Australian Champions with an iron clad resume.
Ryan Weigel is the co-owner of KHW Genetics which bought one of the world's famous brood cows – Kamps-Hollow Altitude as a heifer for US$5200. She went on to score 96 points, and is notably the dam of KHW Regiment Apple (who sold for US$1million) and Apple's maternal brother KHW Kite Advent-Red – who made the most Red and White All-American nominations of any sire. Advent has been Premier Sire of the Red & White Holstein show at World Dairy Expo for the last five years. Ryan is also a sire analyst for Accelerated Genetics. Following are his placings and thoughts on Australia's best Illawarras.
DRY HEIFER
Champion: E - Lemon Grove Honeymoon 46 – T & E Hayes, Vic
Reserve Champion: B - Llandovery Tobys Pride 1347 – T & E Hayes, Vic
Honourable Mention: A - White Park Joyce 31 – J E Savage, Qld
4th – C – Glencliffe Beauty 751 – R & S Parker, Vic
5th – F – Blackwood Park Susie 61 – Altmann Family, SA
6th – D – Three Creeks Beth 7 – J & B Evans, Vic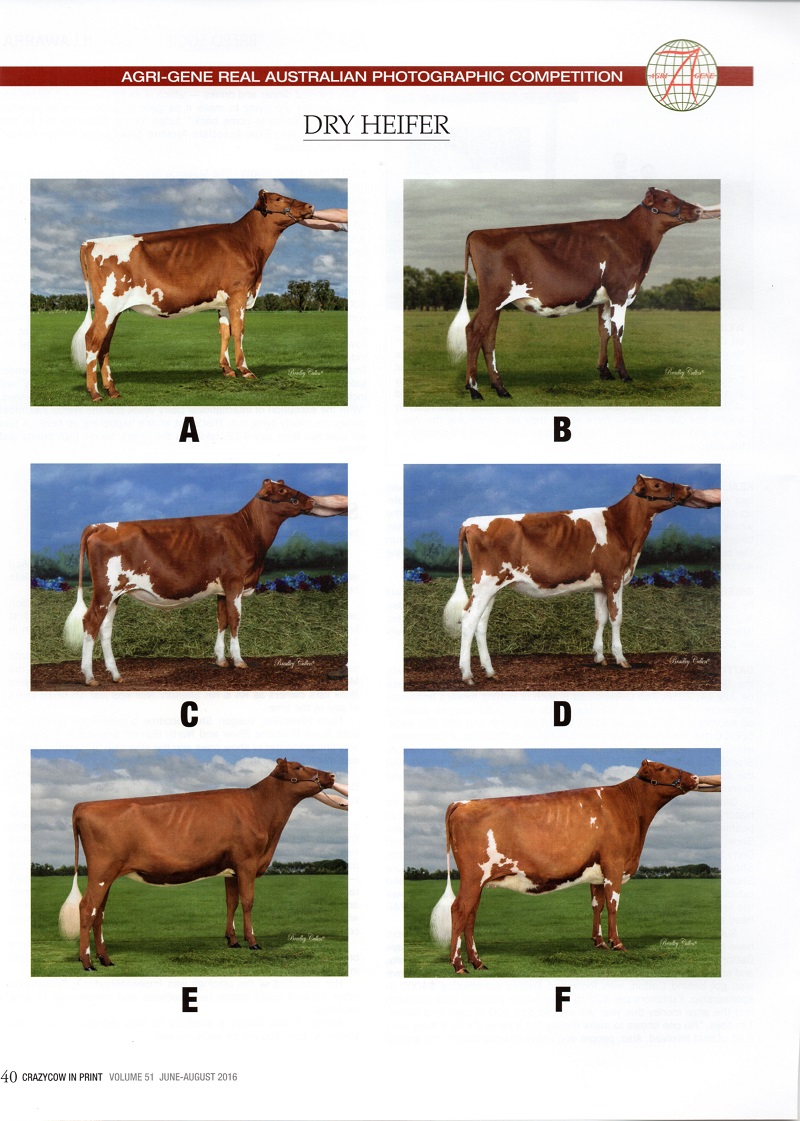 "With her extreme dairyness and correctness throughout, E places over B. She's longer from nose to tail and has a more desirable slope to her rump. Additionally, she is more open in her rib, and she also exhibits more desirable sweep to her rib. I'll admit B shows more length of neck. In a close placing, B places over A. She's a cleaner-cut heifer that has more incurving in her thigh. She blends more smoothly from her neck to her shoulder. Additionall, I prefer how her tail sits between the pins. I do prefer the slope from hips to pins on A. A then goes over C with that correctness in her rump region. She's much longer and more nearly level from hips to pins. I do admit C has a more correct set to her hock. C goes over F with her decided advantage in dairy character. She's cleaner about the head and neck and carries that cleanliness all the way back to her thigh. I grant that F has a more desirable slope to her rump. In my final placing, F gets the slight edge over D for her overall mass and substance and having more width throughout. I do admit D shows me more dairyness today and steps down on a stronger heel."
TWO TO THREE YEARS IN MILK
Champion: B – Kangawarra Stella 3863 – Tom & Kyleigh Cochrane, NSW
Reserve Champion: E – Glenbrook Nancy 53 – I & J Mueller, SA
Honourable Mention: A – Eagle Park Prophet Jean 3944 – Tim & Natalie Cochrane, NSW
4th – C – Eagle Park Thorpe Passion 3946 – Tim & Natalie Cochrane, NSW
5th – D – Tara Panda 9 – M & G Henry, Qld
6th – F – Wallumlands Rosarian 8 – T & U Tidcombe, Qld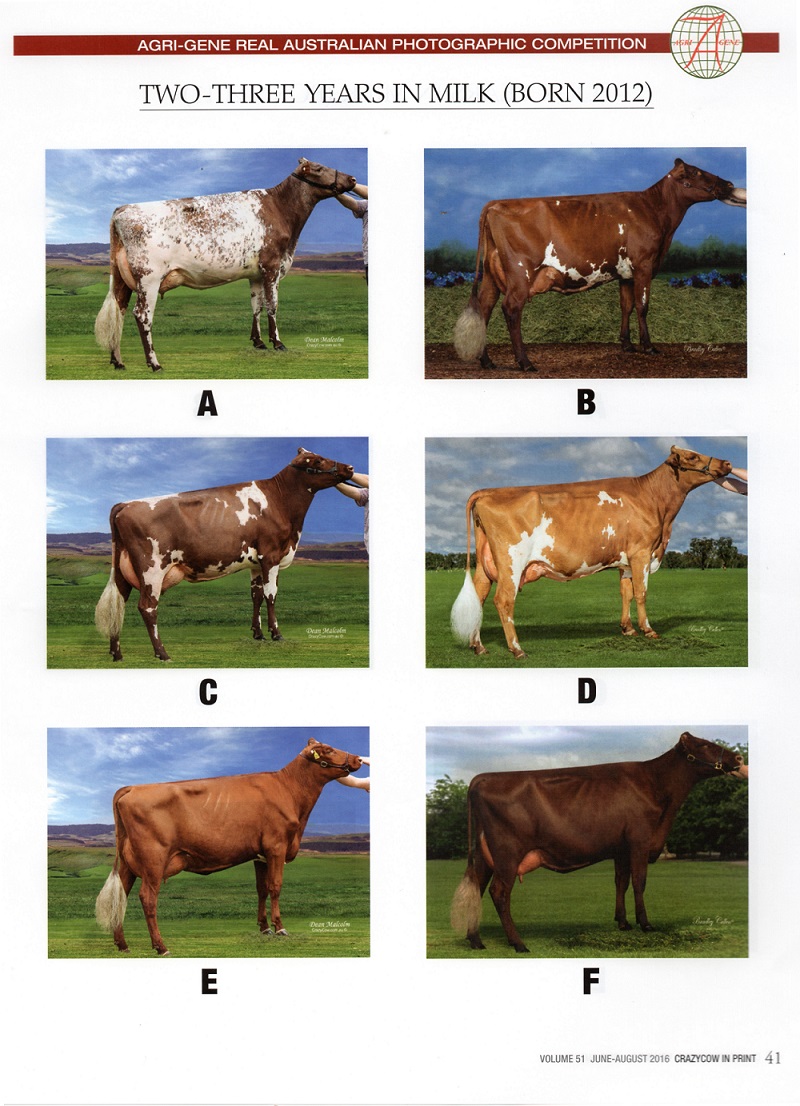 "B wins the class today exhibiting the most style and balance throughout. She's a long, lean dairy cow that spells milk. She's longer and smoother in her fore udder when compared to E. I do admit E displays more width throughout. E gets the nod over A for being sharper over her withers and on down to her topline. Additionally, I prefer the teat size and shape of E. I do admit that A exhibits more width to her rear udder. A places over C for being more youthful in her mammary system, more snug in her fore udder and higher and wider in her rear udder. I grant that C is a cleaner-cut cow. C then goes over D with more bloom to her udder. I also prefer C's set to her hock when viewed from the side. I grant that D is a longer cow from end-to-end. In my last pair, D places over C. Her biggest advantage is her fore udder is much longer than F. She also shows me more depth of rear rib and more desirable set to her hock. I recognise F is slightly higher in her rear udder but lacks the overall quality of mammary system found in those above her to warrant a higher placing in this outstanding class."
FOUR YEARS IN MILK
Champion: C – Bluechip Absolute Pamela – Tim & Natalie Cochrane, NSW
Reserve: D – Riversleigh Scarlet Dorris 2 – Tuhan Family, Vic
Honourable Mention: E – Bluechip Absolute Duchess – Tim & Natalie Cochrane, NSW
4th – B – Lemon Grove Buttercup 335 – DJ Ashe & Nicholson Family, Vic
5th – A – Amor Cocktail 2 – R & A Heath, Vic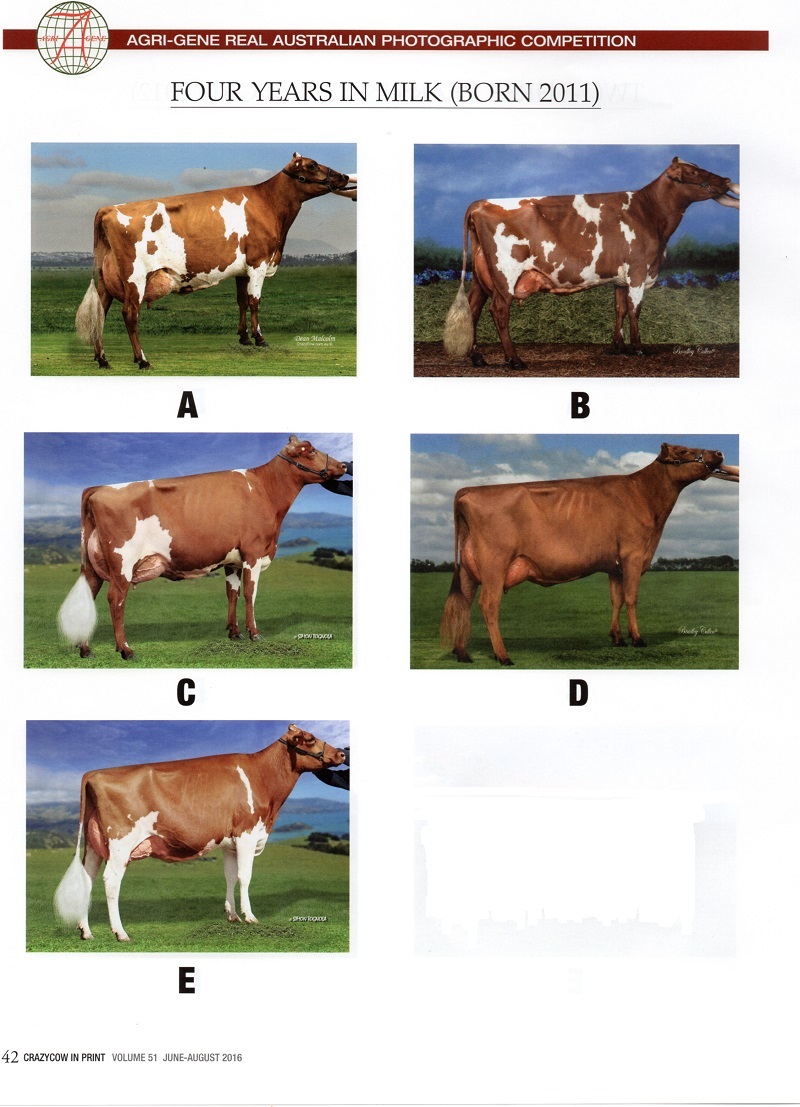 "C Sorts herself to the top of the class with her outstanding mammary system. She shows more bloom today and is higher and wider in her rear udder and smoother in her fore udder. I do admit that D shows me more dairyness throughout, and length from nose-to-tail. D then logically places over E using that length from end-to-end. I do prefer the mammary system on E as she's longer and smoother in her fore udder and shows me more bloom. E uses that mammary system to then place over E. She exhibits a more youthful udder that's more snug in its attachments. I grant that B is longer and cleaner about her head and neck. In my final placing, B edges out A for being a longer cow from end-to-end. She also exhibits more dairy character throughout. I do prefer the set to hock on A. A then places on the bottom of the class, lacking the youthfulness of mammary system of those above her. Again another outstanding class."
FIVE YEARS IN MILK
Champion: F – Winganna Viscount Flighty – T & N Coburn, Vic
Reserve: G – Wallumlands Sunstorm 8 – Gordon Bacon & Govett, Vic
Honourable Mention: C – Glencliffe Princess 570 – R & S Parker, Vic
4th – E - Llandovery MC's Emma 873 – T & E Hayes, Vic
5th – D – Wallumlands Blossom 4 – T & U Tidcombe, Qld
6th – A - Eachamvale Chance 7 – G & B English, Qld
7th – B – Myrtleholme Glenda 54 – JP Bourke & Co, Qld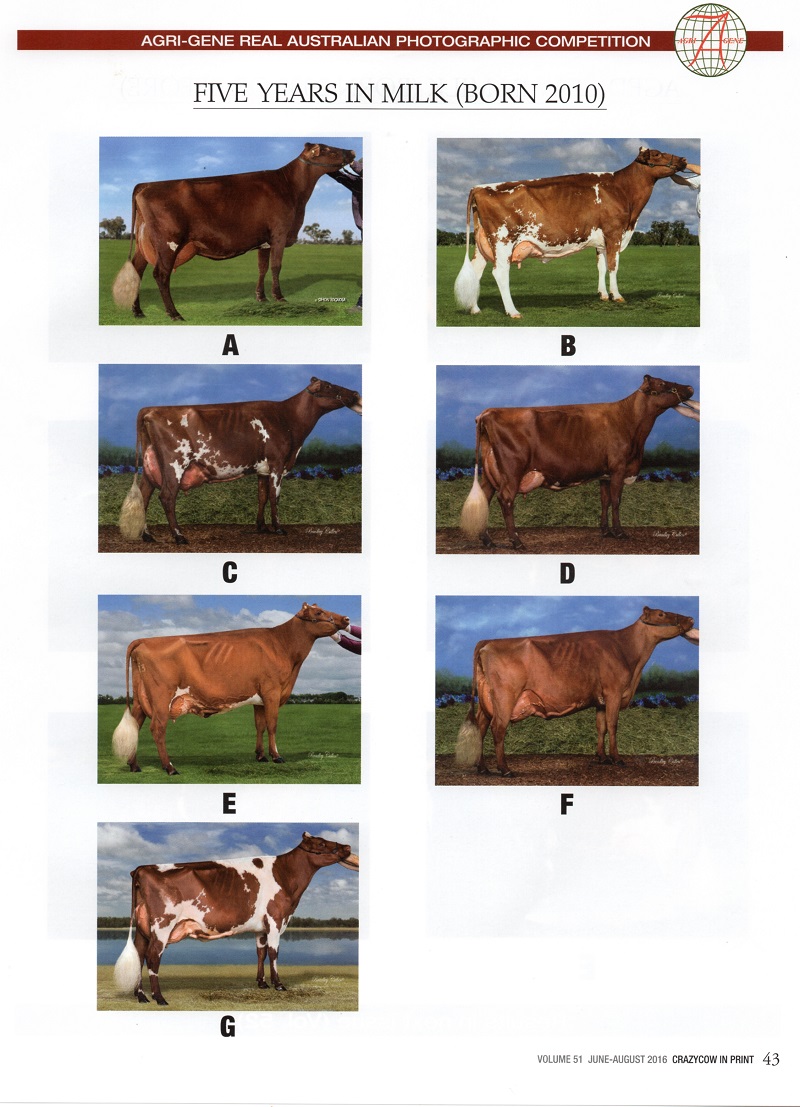 "In an outstanding top pair, I give F the nod for her outstanding dairyness, uphill run, openness and sweep to her rib. Additionally, I prefer the slope from hips to pins on F and notice that she exhibits a more correct thurl placement and set to her hock. All while carrying an extremely correct mammary system. I do admit G shows more bloom in her rear udder and his higher and wider in her attachments. G then logically places over C with that outstanding mammary system. She's also a longer cow that shows more depth of chest. I do prefer the slope from hips to pins on C. In a closer placing, C places over D with her advantage in height and width in her rear udder. She's also longer and smoother in her fore udder. I do notice that D exhibits more incurving in her thigh and steps down on a stronger heel. Next, D places over A for that correctness in her foot and leg. She's also a more balanced cow that's also longer in her fore udder than A. I do grant A has more dairyness about her head and neck. For my last placing, A edges out B for her quality of mammary system. I prefer the teat size and shape on A. She's also longer in her fore udder. Although I admire her femininity, B lacks the quality in her mammary system and correctness of foot to warrant a higher placing in this class."
AGED COW
Champion: D – Viewmount Poppy 39 – Ringland Family, NSW
Reserve: E – Glencliffe Carlee 479 – R & S Parker, Vic
Honourable Mention: B – Winganna Empire Plum – T & N Coburn, Vic
4th – A – Myrtleholme Rose 232 – JP Bourke & Co, Qld
5th – F – Llandovery Redliner Pride 697 – T & E Hayes, Vic
6th – C – Riversleigh Bustling Buttercup 5 – Tuhan Family, Vic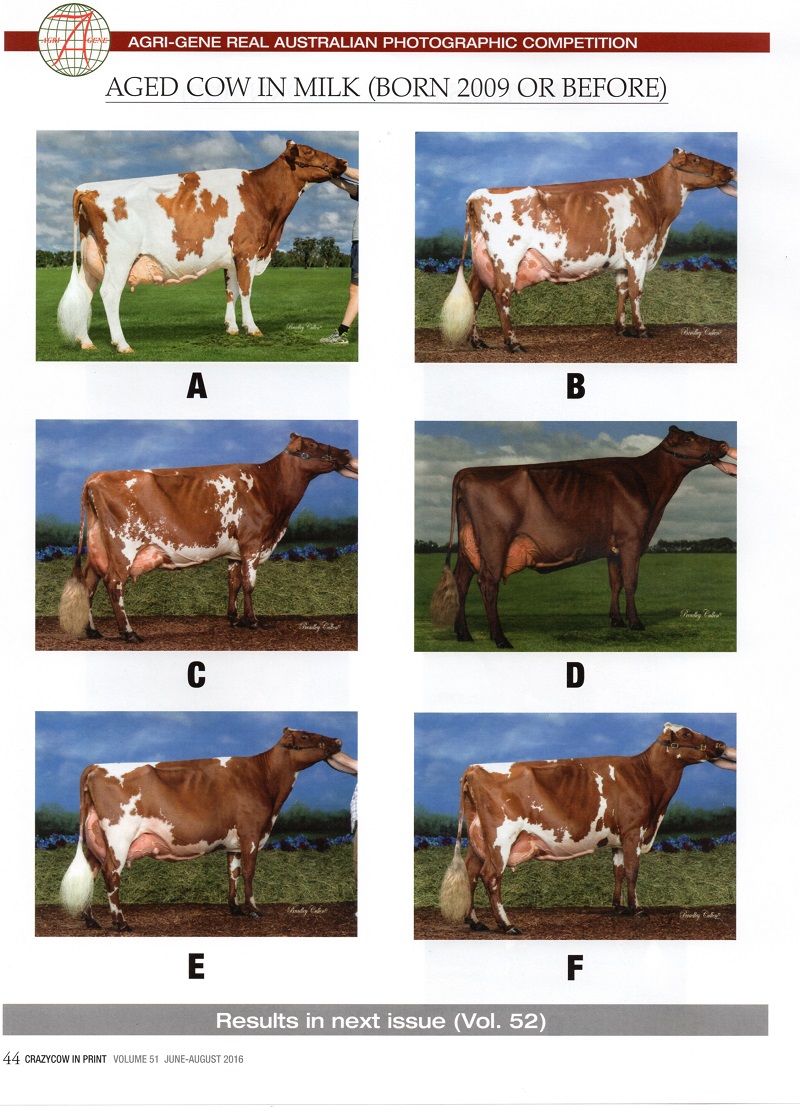 "D easily sorts herself to the top of this class. She's dairy, open and carries an outstanding mammary system while also walking on a great foot and leg. She uses her extreme style and balance to place over E. She's an open ribbed yet dairy cow that's longer and leaner all the way down her top line and smoother in her tail setting. Furthermore, D is cleaner through her thigh. She also exhibits the best foot and leg in the class and shows more flex in her hock when compared to E. I do admit that E is slightly longer and more level on her udder floor. E then uses that youthfulness of her mammary system to place over B. She carries her udder higher above the hock, is higher and wider in her rear udder and slightly smoother through the fore udder. Additionally, E exhibits more dairyness throughout when compared to B. I do grant B shows me more depth of heart. Next, I place B over A. B is more balanced cow that blends more smoothly from her neck to shoulder and her shoulder to her barrel. She's also longer and harder all the way down her top line. I do admit that A carries her mammary system higher above the hock. Next A gets the nod over F for having that youthful mammary system. She shows more length of fore udder and it blends more smoothly into the body wall. I also prefer the set to the hock on A over F. I recognise the F is longer and more level from her hips to her pins, with a cleaner tail setting. In a very close placing, F places over C. F is a little longer from end-to-end, she also shows me more openness and correct sweep to her rib. Additionally, she's longer from nose to tail. I do prefer C's set to the hock. Although a great cow in her own right, I place C on the bottom of this class because she lacks the depth and openness of the animals above her."