The 2018 On Farm Challenge in Queensland has been finalized with Judge, Doug Savage (Canada) travelling to the Atherton Tablelands, Beaudesert, Warwick, Toowoomba, Oakey and Sunshine Coast/Gympie areas to judge 203 animals across six classes.
Numbers were slightly down on the 2016 competition but that is not surprising given the drought conditions affecting most areas.
The John & Geraldine Nahrung perpetual trophy for Overall Champion went to Henry & Bourke for Ovensdale Rose 182. Allen Vale Virgin 13 (Phillips Barron), second to Rose in the 5-7yrs in milk or dry class, was named Reserve Champion.
The Cherie Davis perpetual trophies for Junior Champion and Junior Best Udder went to Eacham Vale Precious 7 owned by Greg & Bronwyn English. Precious was also named Honourable Mention overall.
Senior Best Udder went to Ovensdale Rose 182.
Queensland Branch Secretary, Betty Ledger, thanked everyone for their hospitality to the judge and entourage.
A video of each class has been created and placed on the Illawarras Australia YouTube channel. Just click on the YouTube tab on the right hand side of the home page and choose the class you wish to view. If you are a member of the Illawarra Dairy Cattle, Australia facebook group, you can listen to the Judge's comments by watching the videos taken by Steven Ledger on his phone on the presentation day.
In conjunction with the On Farm Challenge presentation, Keith Dorries was presented with a well deserved Life Membership of the Queensland Branch. Life member, Bob Lester, presented the badge with Annette Dorries doing the pinning. Picture: L-R Bob Lester, Keith Dorries, Mike Henry (Qld Branch President). Front: Annette Dorries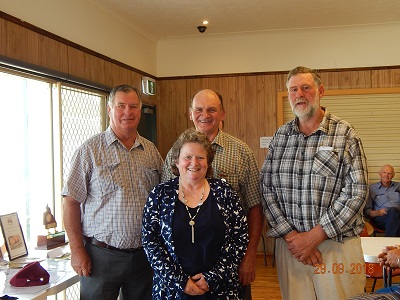 The Michael Ledger Memorial Shield for the Queensland Illawarra Production Cow of the Year was also presented. Congratulations to the Wieck family of Chelmonte Farming whose cow, Chelmonte Snow 57 topped the production records of those animals herd recorded in Queensland for the 2017-18 lactation year with 12561 litres milk, 3.59% Protein, 4.39% Fat, 1002 kgs Fat Plus Protein. Pic: L-R - Steven Ledger, presenting the memorial shield on behalf of the Ledger Family, to Kylie & Grant Wieck, while Darling Downs Illawarra Cattle Club President, Clinton Vonhoff, watches on.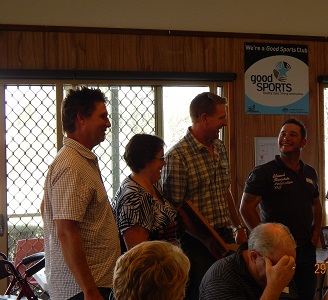 ON FARM CHALLENGE RESULTS:
DRY HEIFER:
1st T. Nicholls – Sunny View Barbwire Pauline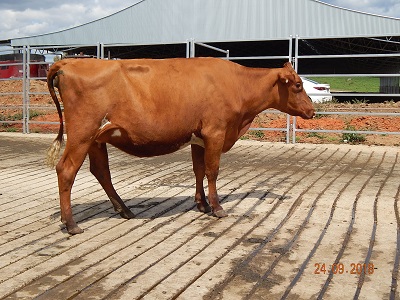 2nd Smith Family – Willmoo Constance 2
3rd G & B English – Eachamvale Sarah 47
4th Patrick English – Wallumlands Pet 16
5th F S Johnston & Sons – Jondene Silky 119
6th M & G Henry – Tara Redrose 2
7th Catherine English – Eachamvale CV Princess 13
8th P & C Ardrey – Cheralyn Jinny 2
9th Cherie Davis – Green Valley Pet
10th Den Dia Partnership - Den Dia Moss 4
2YRS IN MILK:
1st G & B English - Eachamvale Kaye 15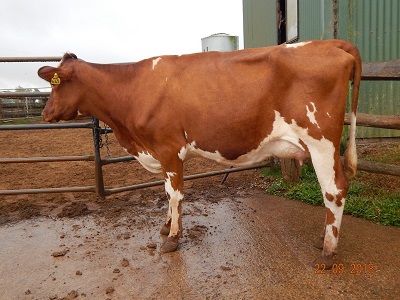 2nd F S Johnston & Sons – Jondene Lucy 111
3rd Den Dia Partnership – Den Dia Minnie 14
4th Bourke Family – Myrtleholme Star 27
5th Eight Mile Agri Trust – St Andrews Beauty 75
6th G & B English – Panorama Angeline 47
7th F S Johnston & Sons – Happy Valley Lila 8
8th Bourke Family – Myrtleholme Gem 106
9th F S Johnston & Sons – Jondene Barbara 28
10th Ledger Family – Riverwood Florrie 7
3YRS IN MILK OR DRY
1st G & B English – Eachamvale Precious 7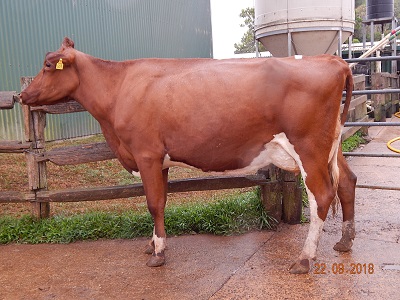 2nd F S Johnston & Sons – Jondene Evelyn 11
3rd Ledger Family – Riverwood Diamond 8
4th D & L Priebbenow – Silverleigh Lacey
5th G & B English – Eachamvale Kaye 13
6th Bourke Family – Myrtleholme Nancy 40
7th Bourke Family – Myrtleholme Stella 28
8th G, A & K Drury – Glenview 1556
9th C & M Vonhoff – Myall Joker Tanya
10th J & K Bradfield – Rosedale Sally 2315
4YRS IN MILK OR DRY:
1st Ledger Family – Riverwood Joy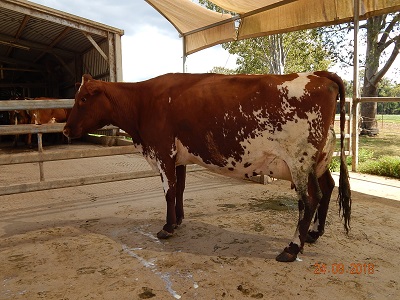 2nd F S Johnston & Sons – Jondene Barbara 23
3rd T & U Tidcombe – Wallumlands Clarabelle 5
4th T & U Tidcombe – Happy Valley Model 59
5th J & K Bradfield – Rosedale Helen 1714
6th F S Johnston & Sons – Jondene Kitty 55
7th Ledger Family – Riverwood Kitty 21
8th C & M Vonhoff – Myall Ford Mimi
9th J & K Bradfield – Rosedale Ella 3914
10th Smith Family – Wilmoo Mary
5-7YRS IN MILK OR DRY:
1st Bourke & Henry – Ovensdale Rose 182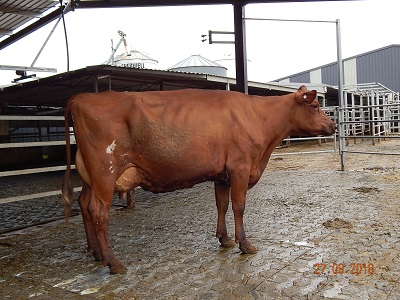 2nd Phillips Barron – Allen Vale Virgin 13
3rd Bourke Family – Myrtleholme Lemon Empress 60
4th F S Johnston & Sons – Jondene Barbara 18
5th P & C Ardrey – Riverwood Sapphire 6
6th Bourke Family – Myrtleholme Maid 52
7th G & B English – Eachamvale Joan 10
8th Smith Family – Wilmoo Moira 2
9th M & G Henry – Tara Dahlia 15
10th Bourke Family – Myrtleholme Charity 39
MATURE COW IN MILK OR DRY:
1st Den Dia Partnership – Den Dia Empress 83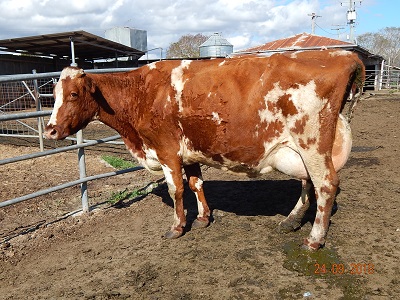 2nd Dennis English – Tut Park Tulip 1674
3rd M & G Henry – Happy Valley Maiden 23
4th Bourke Family – Myrtleholme Lemon Empress 42
5th Phillips Barron – Sunny View Duchess
6th Ledger Family – Riverwood Model 6
7th Eight Mile Agri Trust – St Andrews Gentle 421
8th Ledger Family – Riverwood Kitty 14
9th J & K Bradfield – Rosedale Max Jodie
10th G, A & K Drury – Glenview 1008
OVERALL CHAMPION: OVENSDALE ROSE 182 – BOURKE & HENRY
RESERVE CHAMPION: ALLEN VALE VIRGIN 13 – PHILLIPS BARRON
HONOURABLE MENTION: EACHAMVALE PRECIOUS 7 – G & B ENGLISH
SENIOR BEST UDDER - OVENSDALE ROSE 182 – BOURKE & HENRY
JUNIOR BEST UDDER - EACHAMVALE PRECIOUS 7 – G & B ENGLISH