Gympie Show saw a smaller than normal showing of Illawarras with 22 head from 5 exhibitors under the eye of judge, Tom Cochrane, Kangawarra Stud, Shoalhaven, NSW.
Tom said "I had quite an enjoyable day judging at Gympie. The Juvenile Champion was the most correct for me, she had great body capacity, a good rump and walked well. My intermediate champion was not the biggest animal, but she has a snug udder with good front teat placement and great veination, a great rump and is a neat dairy heifer that fits her age well. The senior champion showed plenty of strength and dairyness, good spring and depth of rib, with ideal udder attachments and great teat placement. She is the type of cow that everyone wants a herd full of. Overall really happy with the quality of the cattle displayed and I enjoyed the challenge of adjudicating the show."
Juvenile Champion was Eacham Park Envy 71 exhibited by Bryan Noakes with the Reserve Champion going to Panorama Jean 25 exhibited by Loka Manu. The Ledger Family took out both the Intermediate and Senior Champions with Riverwood Venus 56 and Riverwood Coral 3 respectively. Reserve Champion Intermediate went to another Loka Manu exhibit, Panorama Angeline 44 with the Reserve Champion Cow going to F S Johnston & Sons' Riverwood Model 18.
Thanks again to Tanya Pratten for taking the photos.
FULL RESULTS:
Class 1: Heifer 6mths & U12mths dry
1st Den Dia Partnership – Den Dia Empress 102, s. Treeton Pimp, d. Den Dia Empress 83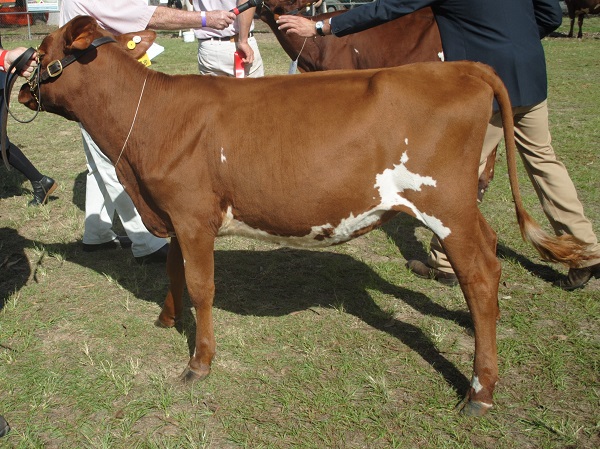 2nd F S Johnston & Sons – Jondene Barbara 34, s. Jondene Patch, d. Jondene Barbara 16
Class 2: Heifer 12mths & U18mths dry
1st Loka Manu – Panorama Jean 25, s. Panorama Fabulous, d. Panorama Jean 23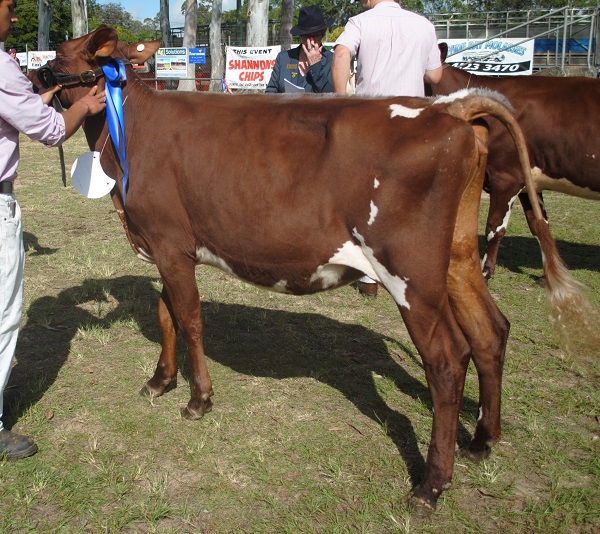 2nd F S Johnston & Sons – Jondene Barbara 33, s. Riverwood Percy, d. Jondene Barbara 17
Class 3: Heifer 18mths & U2yrs dry
1st Bryan Noakes – Eacham Park Envy 71, s. Eachamvale Gambler, d. Eacham Park Envy 63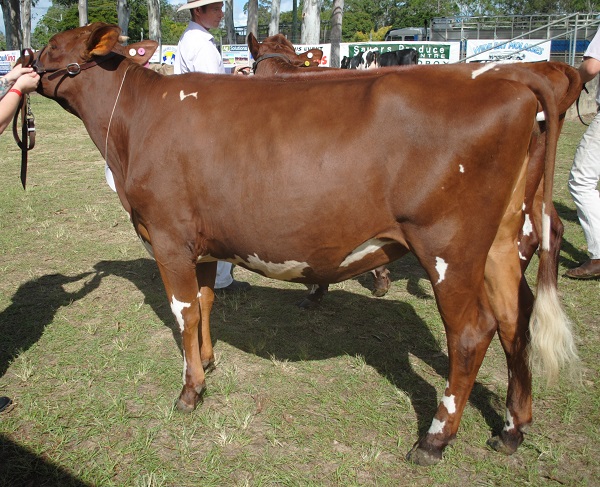 2nd F S Johnston & Sons – Jondene Jean 18, s. Jondene Patch, d. Jondene Jean 11
3rd F S Johnston & Sons – Jondene Tiddlewinks 18, s. Glenbrook General, d. Jondene Tiddlewinks 9
CHAMPION JUVENILE HEIFER: EACHAM PARK ENVY 71 – BRYAN NOAKES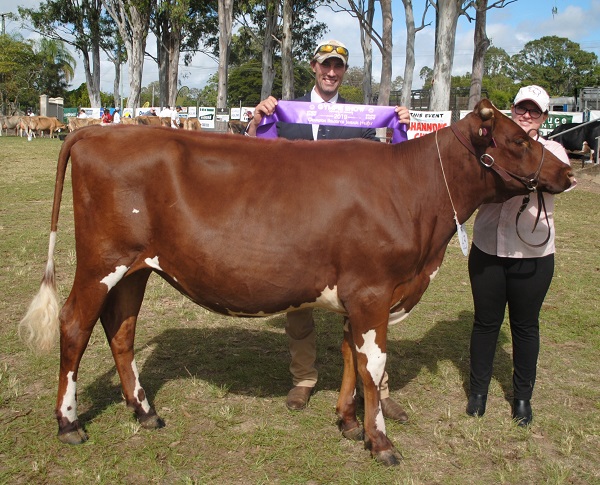 RESERVE CHAMPION JUVENILE HEIFER: PANORAMA JEAN 25 – LOKA MANU
Class 4: Heifer in Milk U2.5yrs
1st Ledger Family – Riverwood Venus 56, s. Riverwood Blaze, d. Riverwood Venus 26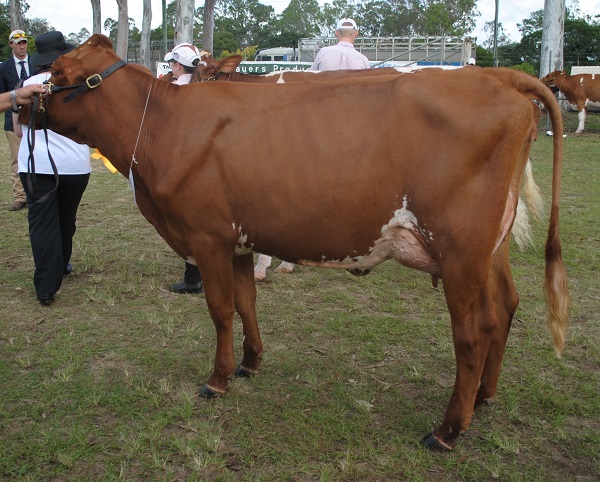 2nd Bryan Noakes – Eacham Park Plum 22, s. unreg Illawarra Bull, d. Eacham Park Plum 17
3rd F S Johnston & Sons – Jondene Kay 19, s. Jondene Patch, d. Jondene Kay 17
Class 5: Heifer in milk 2.5yrs & U3yrs
1st Ledger Family – Riverwood Model 26, s. Riverwood Scorcher, d. Riverwood Model 14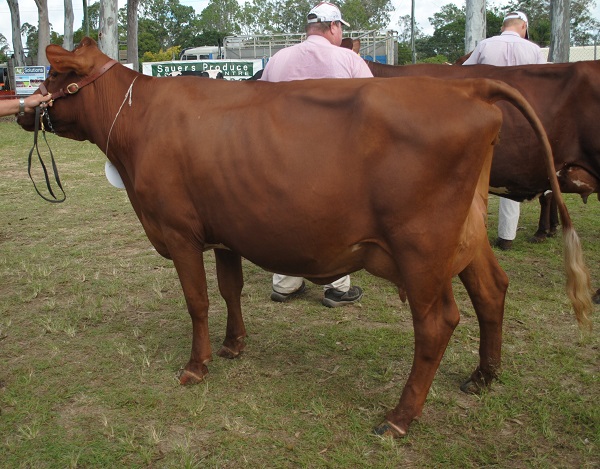 2nd Den Dia Partnership – Den Dia Moss 4, s. Riverwood Scorcher, d. Den Dia Moss 3
3rd F S Johnston & Sons – Jondene Silky 119, s. Jondene Drummer, d. Jondene Silky 104
Class 6: Heifer in milk 3yrs & U3.5yrs
1st Bryan Noakes – Eacham Park Beauty, s. KHW Kite Advent Red, d. Eacham Park Beauty 34


2nd Den Dia Partnership – Den Dia Minnie 14, s. Riverwood Blizzard, d. Den Dia Minnie 9
Class 7: Heifer in milk 3.5yrs & U4yrs
1st Loka Manu – Panorama Angeline 44, s. Panorama Classic, d. Panorama Angeline 24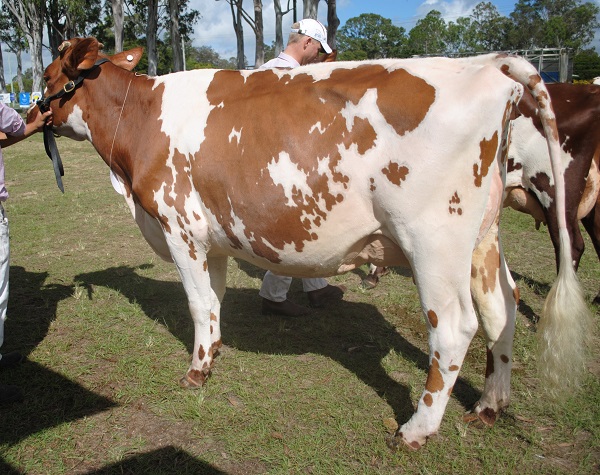 2nd F S Johnston & Sons – Jondene Peta 7, s. Jondene Redman, d. Jondene Peta 2
Class 8: Group of 3 Heifers U4yrs:
1st F S Johnston & Sons
Class 9: Best Udder & Attachment U4yrs
1st Loka Manu – Panorama Angeline 44, s. Panorama Classic, d. Panorama Angeline 24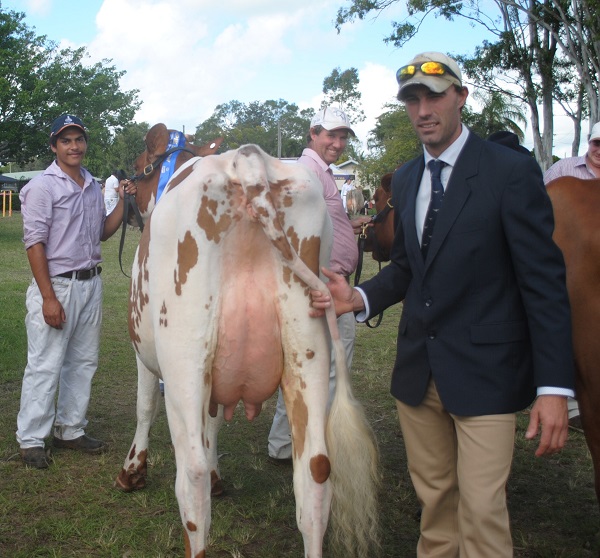 2nd Ledger Family – Riverwood Venus 56, s. Riverwood Blaze, d. Riverwood Venus 26
3rd Bryan Noakes – Eacham Park Plum 22, s. unreg Illawarra Bull, d. Eacham Park Plum 17
CHAMPION JUNIOR HEIFER: RIVERWOOD VENUS 56 – LEDGER FAMILY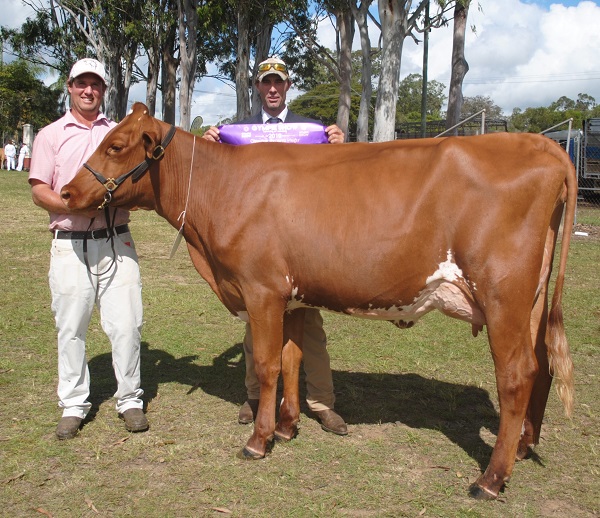 RESERVE CHAMPION JUNIOR HEIFER: PANORAMA ANGELINE 44 – LOKA MANU
Class 10: Cow 4yrs & over & U5yrs in milk
1st F S Johnston & Sons – Riverwood Model 18, s. Happy Valley Parker, d. Riverwood Model 3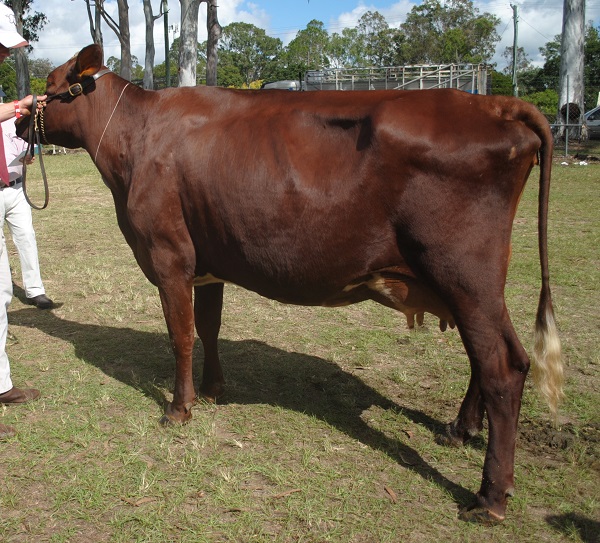 Class 11: Cow 5yrs & U6yrs in milk
No entries
Class 12: Cow 6yrs & U7yrs in milk
1st Ledger Family – Riverwood Coral 3, s. Happy Valley Parker, d. Riverwood Coral 2


2nd F S Johnston & Sons – Jondene Thelma 19, s. Jondene Design, d. Jondene Thelma 46
3rd Ledger Family – Riverwood Annie 3, s. Riverwood Panther, d. Jondene Annie 9
Class 13: Cow 7yrs & over in milk
1st F S Johnston & Sons – Jondene Barbara 18, s. Jondene Lucky, d. Jondene Barbara 9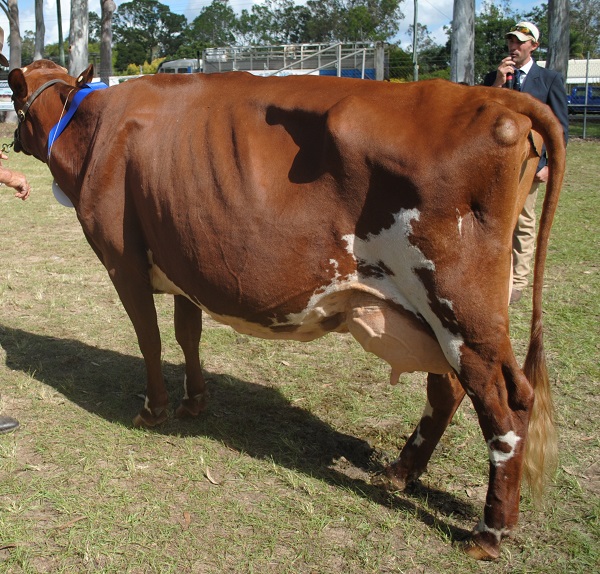 Class 14: Pen of 3 Cows over 4yrs
1st F S Johnston & Sons
Class 15: Exhibitors Group 4 head any age
1st F S Johnston & Sons
Class 16: Best Udder & Attachment 4yrs & over
1st Ledger Family – Riverwood Coral 3, s. Happy Valley Parker, d. Riverwood Coral 2
2nd F S Johnston & Sons – Riverwood Model 18, s. Happy Valley Parker, d. Riverwood Model 3
3rd F S Johnston & Sons – Jondene Thelma 19, s. Jondene Design, d. Jondene Thelma 46
CHAMPION COW: RIVERWOOD CORAL 3 - LEDGER FAMILY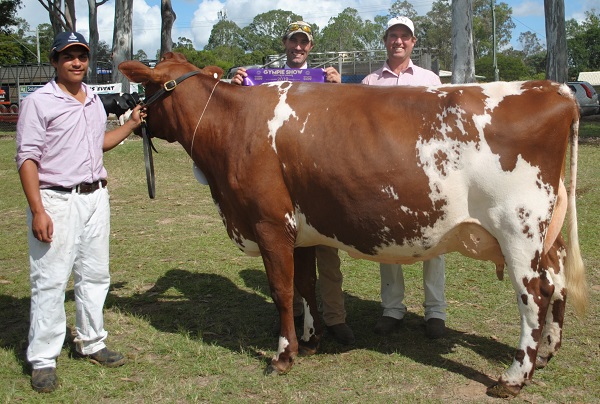 RESERVE CHAMPION COW: RIVERWOOD MODEL 18 - F S JOHNSTON & SON
INTERBREED RESULTS:
Supreme Hon Mention Cow – Riverwood Coral 3
Supreme Reserve Champion Junior – Riverwood Venus 56
Supreme Hon Mention Udder – Panorama Angeline 44
Supreme Reserve Champion Juvenile – Eacham Park Envy 71