The Gatton Dairy Showcase held in conjunction with Gatton Show on 13th July 2022, saw 38 top quality Illawarras presented to judge Jason Smith, Baromi Stud, Victoria. Numbers were slightly down across all breeds due to the incessant wet weather and staffing issues experienced by exhibitors.
Quality was fairly even but the Henry Family (White Park & Tara) of Hodgsonvale, Toowoomba was the standout exhibitor winning Champion Cow and Champion Intermediate with the Matt Henry and Shane Bourke combo winning Champion Juvenile.
Congratulations to all nine exhibitors on a magnificent display.
RESULTS:
Class 1: Heifer 6mths & U10mths
1st Voss & Canning – Mount Vista Bounce 7, s. Riversleigh Alston Montagna, d. Mt Vista Bounce 4
Class 2: Heifer 10mths and U15mths
1st Henry & Bourke – MASH Rosso Beauty, s. Aimonetta Inseme Sogno Rosso, d. Ovensdale Beauty 438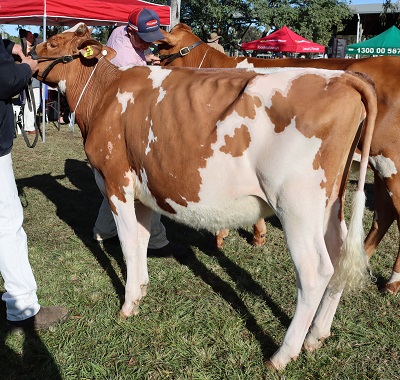 2nd Ledger Family – Riverwood Shamrock 16, s. Riverwood Maximus Prime, d. Riverwood Shamrock 15
3rd Phillips & Barron – Sunny View Supreme Linda, s. Gorbro Sunstorm Supreme, d. Allen Vale Linda
Class 3: Heifer 15mths and U20mths
1st R & J Lindsay – Waraba Cindy 8, s. Glencliffe JP Jedi, d. Waraba Cindy 4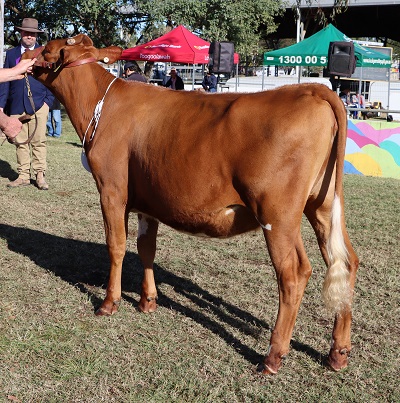 Class 4: Heifer 20mths & U2yrs dry
1st M & G Henry – Tara Panda 20, s. Myrtleholme Kermit, d. Tara Panda 12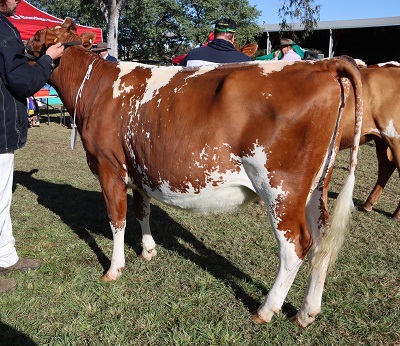 2nd Den Dia Partnership – Den Dia Minnie 17, s. Myrtleholme Josh, d. Den Dia Minnie 14
3rd B Noakes – Eacham Park Beauty 43, s. Eacham Park Envy's Tribute, d. Eacham Park 36
JUVENILE CHAMPION: MASH ROSSO BEAUTY – HENRY & BOURKE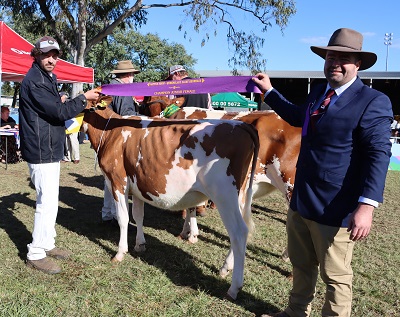 JUVENILE RESERVE CHAMPION: TARA PANDA 20 – M & G HENRY
HON MENTION JUVENILE: WARABA CINDY 8 – R & J LINDSAY
Class 5: Heifer 2yrs & U3yrs dry
No Entries
Class 6: Heifer 18mths & U2yrs in milk
1st Phillips & Barron – Sunny View Supreme Blossom, s. Gorbro Sunstorm Supreme, d. Allen Vale Blossom 22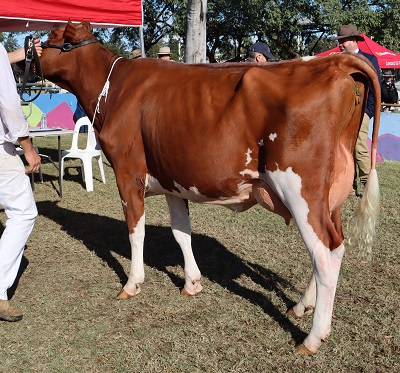 Class 7: Heifer 2yrs & U2.5yrs in milk
1st M & G Henry – Tara Panda 19, s. Myrtleholme Kermit, d. Tara Panda 13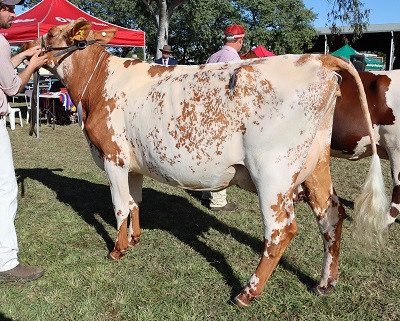 2nd Ledger Family – Riverwood Butterdale, s. Riverwood Blaze, d. Ovensdale Buttercup 368
Class 8: Heifer 2.5yrs & U3yrs in milk
1st M & G Henry – White Park Joyce 38, s. Myrtleholme Kermit, d. White Park Joyce 35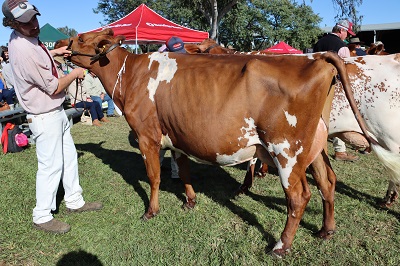 2nd Ledger Family – Riverwood Miranda 9, s. Kangawarra Muppet, d. Riverwood Miranda 4
3rd Ledger Family – Riverwood Honey 11, s. Riverwood Blaze, d. Riverwood Honey 10
Class 9: Heifer U3yrs – Best Udder & Attachment
1st M & G Henry – White Park Joyce 38, s. Myrtleholme Kermit, d. White Park Joyce 35
2nd Ledger Family – Riverwood Miranda 9, s. Kangawarra Muppet, d. Riverwood Miranda 4
3rd M & G Henry – Tara Panda 19, s. Myrtleholme Kermit, d. Tara Panda 13
INTERMEDIATE CHAMPION – WHITE PARK JOYCE 38 – M & G HENRY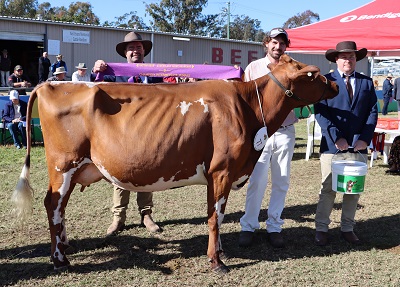 INTERMEDIATE RESERVE CHAMPION – SUNNY VIEW SUPREME BLOSSOM – PHILLIPS & BARRON
HON MENTION INTERMEDIATE – RIVERWOOD MIRANDA 9 – LEDGER FAMILY
Class 10: Pen of 3 Heifers U3yrs
1st M & G Henry
2nd Ledger Family
3rd Voss & Canning
Class 11: Cow 3yrs & U5yrs dry
1st Ledger Family – Panorama Tammy 38, s. Panorama Fabulous, d. Panorama Tammy 36 - no photo available
Class 12: Cow 5yrs & over dry
1st F S Johnston & Sons – Jondene Barbara 23, s. Jondene Ford, d. Jondene Barbara 9 - no photo available
Class 13: Cow 3yrs & U4yrs in milk
1st Ledger Family – Riverwood Coral 6, s. Kangawarra Muppet, d. Riverwood Coral 5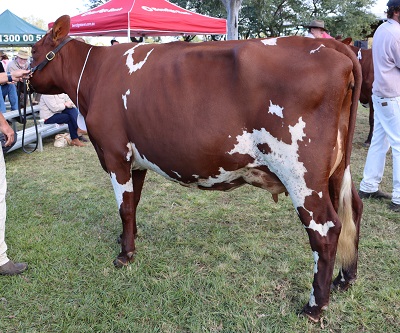 2nd M & G Henry – Tara Pat 14, s. FG Jacot, d. Tara Pat 6
3rd Voss & Canning – Mount Vista Aprils Pet 2, s. Mount Vista Traditional, d. Mount Vista Aprils Pet
Class 14: Cow 4yrs & U5yrs in milk
1st F S Johnston & Sons – Jondene Tiddlewinks 18, s. Glenbrook General, d. Jondene Tiddlewinks 9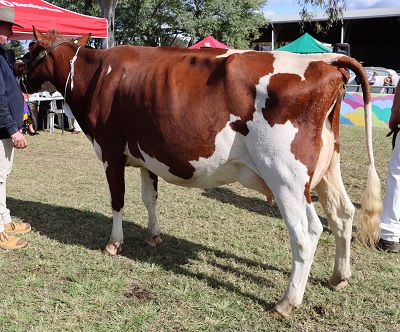 2nd M & G Henry – White Park Thelma 228, s. Schrago Remedy Ikar, d. White Park Thelma 222
3rd R & J Lindsay – Llandovery Quarnies Lorna 1949, s. Llandovery WBS Quarnie, d. Llandovery Jetson Lorna
Class 15: Cow 5yrs & U6yrs in milk
1st M & G Henry – Tara Carol 4, s. Llandovery Jets Vigil, d. Tara Carol 2

2nd F S Johnston & Sons – Jondene Buttercup 94, s. Jondene Drummer, d. Jondene Buttercup 88
Class 16: Cow 6yrs & U7yrs in milk
1st Phillips & Barron – Allen Vale Virgin 16, s. Panorama Anticipation, d. Allen Vale Virgin 13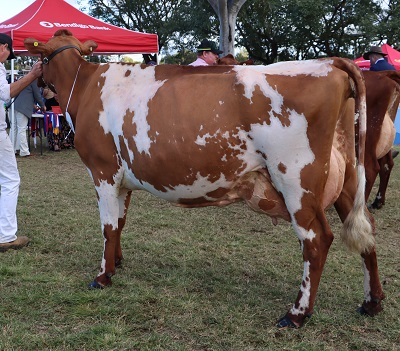 2nd Den Dia Partnership – Den Dia Buttercup 5, s. Riverwood Blizzard, d. Den Dia Buttercup 2
Class 17: Cow 7yrs & over in milk
1st F S Johnston & Sons – Jondene Barbara 22, s. Happy Valley Parker, d. Jondene Barbara 16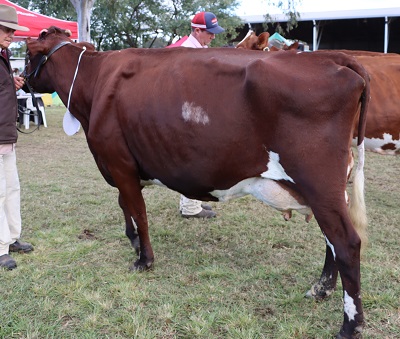 2nd Ledger Family – Ovensdale Buttercup 368, s. Lemon Grove Belagio, d. Ovensdale Buttercup 294
3rd F S Johnston & Sons – Riverwood Model 18, s. Happy Valley Parker, d. Riverwood Model 3
Class 18: Cow 3yrs & over – Best Udder & Attachment
1st M & G Henry – Tara Carol 4, s. Llandovery Jets Vigil, d. Tara Carol 2
2nd Ledger Family – Riverwood Coral 6, s. Kangawarra Muppet, d. Riverwood Coral 5
3rd F S Johnston & Sons – Jondene Buttercup 94, s. Jondene Drummer, d. Jondene Buttercup 88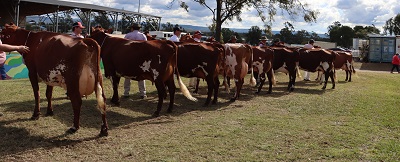 CHAMPION COW: TARA CAROL 4 – M & G HENRY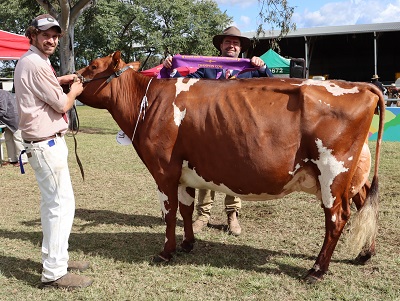 RESERVE CHAMPION COW: RIVERWOOD CORAL 6 – LEDGER FAMILY
HON MENTION COW: ALLEN VALE VIRGIN 13 – PHILLIPS & BARRON

Class 19: Pen of 3 Cows 3yrs & over
1st M & G Henry
2nd F S Johnston & Sons
3rd Voss & Canning
Class 20: Maternally Related Pair
1st Ledger Family
2nd M & G Henry
Class 21: Progeny of Illawarra Sire – 2 females any age
1st Ledger Family
2nd F S Johnston & Sons
3rd M & G Henry
Class 22: Exhibitors Group – 2 females over 3yrs and 2 females U3yrs
1st M & G Henry
2nd Ledger Family
3rd Voss & Canning